We're still in lockdown at the moment, but that doesn't mean that we can't enjoy a good afternoon tea! Check out my review of the Tea House Middlesbrough's afternoon tea delivery service.
Quite a lot of restaurants and cafes are offering afternoon tea delivery at the moment, giving afternoon tea fans an opportunity to enjoy a treat at home, as well as support local businesses. In fact, according to the BBC, from April to May, there has been a 650% increase in searches for 'afternoon tea delivery' on Google!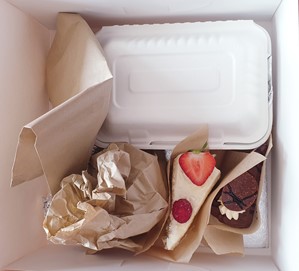 With this in mind, I thought it would be a nice opportunity to try an afternoon tea at home. There are a couple of places in Teesside offering this as a service at the moment but I decided to go with The Tea House Middlesbrough for two reasons:
Firstly, I went for afternoon tea at the Olde Young Tea House for one of my first afternoon teas on the blog; which has now changed hands and is The Tea House Middlesbrough. Secondly, The Tea House Middlesbrough's Instagram feed is pure food porn at it's absolute finest... the cakes look incredible!
So I popped on Instagram and ordered an afternoon tea package - £27 plus £2 delivery. It arrived on Sunday morning and after a quick check to make sure everything had arrived in one piece (it was all packaged up very securely), it went in the fridge ready to enjoy in a few hours time!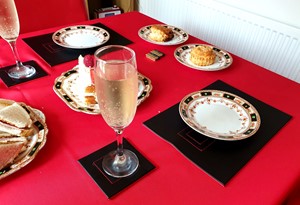 The package included two packs of loose leaf tea, sandwiches, two scones and two slices of cake. Admittedly it didn't look like a lot when I unpacked it, but I have been guilty of saying that before and haven't been able to finish the food!
First were the sandwiches. There were four different flavours to try; ham and mustard, cheese and pickle, tuna and red onion and a wildcard flavour in the shape of hummus and grilled pepper! The sandwiches were decent, all on white bread and well-filled. My favourite was the tuna, but the hummus and pepper was tasty too (if you're looking for a veggie or vegan sandwich filling, I can heartily recommend hummus.)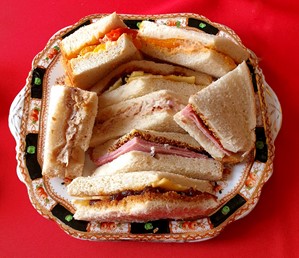 Next, onto the scones. There was one cheese scone and one fruit scone, so we had to share a half each. The scones came with all the required fillings, pats of butter for the cheese scone and a tub of jam and clotted cream for the fruit scone. Both scones tasted good, the cheese scone was nice and flavourful without being overpowering, and the fruit scone was light and moist.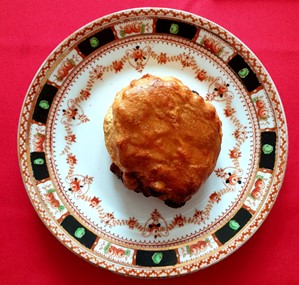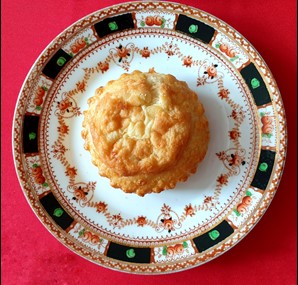 There was a generous serving of jam and clotted cream, so we didn't have to be stingy with the toppings which is always a bonus!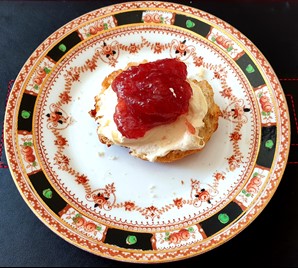 Next, the main event! The Tea House Middlesbrough's cakes always look on point on social media, so I was excited to try them out. Would the cakes taste as good as they looked?
The answer was a resounding yes! We split each slice and both tasted excellent, the highlight of the meal. Both slices were full of flavour and moist. The salted caramel was delicious, but the vanilla sponge with its fresh fruit was agreed to be the favourite.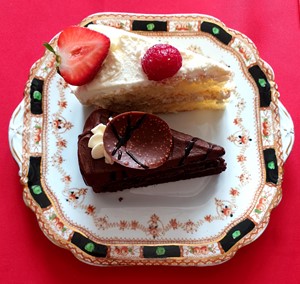 Although we pushed the boat out and had a cheeky bottle of prosecco with our afternoon tea, the package also came with two packs of loose leaf tea, enough for two cups each. Both teas came in large tea bags that would either fit a cup or a teapot.
The flavours that came with our afternoon tea were Russian Earl Grey (a twist on the classic with a pop of lemon) and a Creme Caramel blend that smelt yummy and tasted even more so! If I can find out who makes it, I will buy an entire cupboard shelf's worth of the stuff!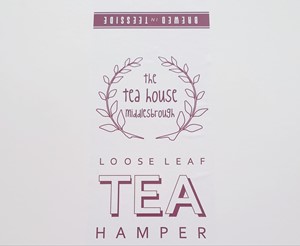 So what was afternoon tea from The Tea House Middlesbrough like? It was really good! Ordering was simple, there was a decent amount of food and they thought of all the additional extras that were needed which was a nice touch. 
I decided not to score this afternoon tea as because I had it at home, I couldn't rate it on ambience. However once lockdown is over, I am very keen to make a trip to Middlesbrough to sample afternoon tea there!
Afternoon tea menu at The Tea House Middlesbrough
A selection of loose leaf teas
Sandwiches:

Ham and mustard
Tuna mayonnaise and red onion
Cheese and pickle
Hummus and grilled pepper

One cheese scone and one fruit scone with jam, clotted cream and butter
Desserts:

Slice of salted caramel cake
Vanilla and fruit cake
<< What I've been baking during lockdown
>> Tea Reviews - The Afternoon Teescup
Pin this post!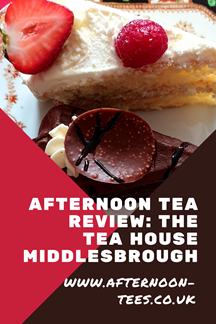 By
Kate
at 30 May 2020, 09:29 AM