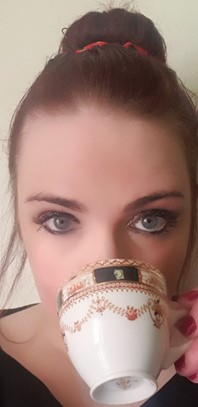 Hi! My name is Kate, I'm a freelance copywriter, and an afternoon tea fan!
Want to find out more about me, or the Afternoon Tees blog? Find out all the answers to your questions here...
Why do a blog about afternoon tea?
Firstly, because I love afternoon tea! It's a fab day out and a great opportunity to socialise with friends and family. Gossip and cake, what's not to like?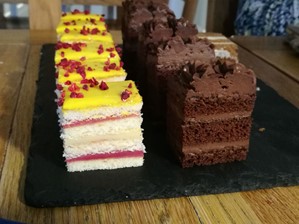 Secondly, because although there are a lot of blogs dedicated to afternoon tea, there wasn't one dedicated to afternoon tea in the North East. I thought a blog would be a lovely way to promote all the great places to eat in the North, as well as the North East in general. The North East and Teesside often gets a lot of negative press, and I want to redress the balance, as it is a great place to live and to work!
Which areas do you cover?
I'm covering the North-East and the top-end of North Yorkshire on the blog, which means anywhere from Northumberland down to the North York Moors.
I do travel around the country from time to time, so I might do posts about afternoon tea in different parts of the UK occasionally, just to mix things up a little bit!
Who are you?
My name is Kate. I love writing and social networking in my spare time, so Afternoon Tees is a bit of a busman's holiday for me!
I like exploring new places, arts and crafts, baking, playing computer games and going to gigs. And eating scones, naturally. If you have a blog that covers any of these categories, please let me know as I would love to check it out!
Can I write an afternoon tea blog?
If you'd like to write a guest post for the blog, that would be awesome! Drop me a line at hello@afternoon-tees.co.uk 
We do afternoon tea - you should come along and check it out…
Drop me a line at hello@afternoon-tees.co.uk and let me know. I'd love to come and check your afternoon tea out!
What if I have a comment?
I'd love to hear your thoughts on afternoon tea! Please drop a comment on the blog or contact me on Twitter, Facebook or Instagram!
And finally… Jam or cream first?
As sacrosanct as it may seem, I have no preference. As long as a scone comes with lots of jam or cream, it doesn't matter what order it comes in!
Privacy policy
We use Google analytics in order to improve to experience of this blog. The cookies Google Analytics use are available to view on the Google Analytics website. Disabling these cookies will not have an adverse effect on your experience of this blog.
We collect information from you when you enter information on our site (i.e. when you comment), however this information is kept secure and we do not give or sell to third parties. We never ask for private information like credit card numbers.