Happy birthday to the Hartburn Village Women's Institute! I went along to visit them as they celebrated their 30th anniversary to find out more about the WI and what they do.
I've always had a preconceived notion about what the Women's Institute was like. An old-fashioned organisation with women singing Jerusalem, baking cakes and making jam. With this in mind, it's been really refreshing to see so many Women's Institute groups on social media.
Hartburn Village WI started following Afternoon Tees on Twitter and we built up a bit of a rapport. As I was curious about the modern-day WI I asked if it would be okay to sit in on a meeting sometime.
Caroline, the president of the WI got back to me and said the group would love to have me over for a meeting. As luck would have it, the next meeting was a celebration of the group's 30th birthday, where members from other chapters as well as founder members would be in attendance and they would be having a bit of food and entertainment.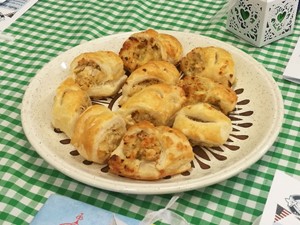 The Hartburn Village WI was founded in 1987 and has a membership of over 50 people, with ages ranging from women in their forties through to women in their nineties. The group meet every month at Hartburn All Saints Church.
I did a little bit of reading up on the Women's Institute before I went along and was impressed with how involved they got in causes. Although the WI itself is not affiliated with a particular political party they do get involved with a wide range of political issues.
In the 1980s they were one of the first groups to get involved helping push for more information about AIDs and at the latest NFWL annual meeting, delegates voted in favour of the two latest campaigns being about alleviating loneliness and keeping microplastic fibres out of the oceans.
The WI even have their own college called Denman, where members can learn everything from cooking to about computers.
So... onto the night itself. I got there on time but the hall was already buzzing, with members sat around long tables. Caroline came over to welcome me.
Caroline had been a member of the Hartburn Village WI for two years but had only been President for four months. She got into the WI after watching 'Home Fires', a show about the WI during the Second World War. Many of the members I spoke to that evening accredited Caroline with bringing the group into the modern age, getting the WI on Twitter and Facebook, as well as keeping the website up to date.
Caroline sat me down next to a lady called Sue. Sue was a very special guest that night as she was Chairman of the Teesside Federation of WIs (a Federation is a collection of local WI groups). Sue had been a member of the WI for over twenty years and was looking forward to the future as Caroline had recently helped her set up a Facebook page for the Federation.
Sue excitedly talked about the different things the WI did. Not only did the WI groups arrange interesting guest speakers for their meetings (Hartburn Village had recently had a visit from Jean Harrod, a former diplomat turned crime writer) but they arranged fun activities. The ladies were heading out to Beamish at the weekend for a fifties-themed festival and in May they 'flower bombed' the local community with bouquets of flowers for residents to find and take home.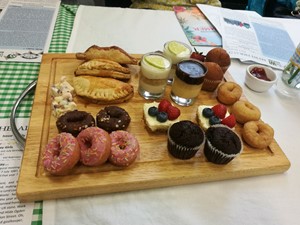 There was a delicious spread on the tables that night but the ladies were very disciplined as the group ran through the usual business. The group started by singing WI anthem Jerusalem and then went through the monthly agenda and what was planned over the next few months.
The ladies were also celebrating as they had made it into WI Life for the first time in their history that month, the magazine for all members that was distributed nationwide.
Once the formalities were over, the party could begin! There were sweet treats and vegetarian sausage rolls on the tables, and as it was also Independence Day, the committee came around with hot dogs too. There was also lots of Prosecco on offer, the ladies who weren't driving had quite a few glasses!
There were also prizes galore, with a raffle taking place as well as free cinema tickets for some lucky members. Caroline mentioned that the Arc Theatre in Stockton had offered quite a few theatre and cinema tickets and the WI was going to start a cinema club after they came back from their summer break.
There was also a lovely cake that was made by one of the members. I didn't eat any as I was full from hot dogs and sausage rolls, but I took a slice home for the other half and he enjoyed it very much!
As we ate, we were serenaded by local group The Seatones, who hail from Seaton Carew (as you know, nobody likes a geographical play on words like Afternoon Tees!). The three ladies sang a mix of songs from the forties, fifties and sixties, which had the Women's Institute singing along.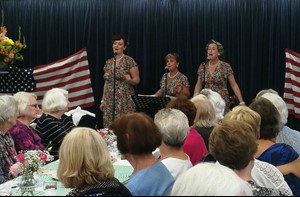 There was also a photo album at the back of the hall with photos of the Women's Institute when it launched thirty years ago. 
The great thing about the night was that the ladies were big fans of afternoon tea, and had some great suggestions for places to visit. Even the Seatones recommended their favourite place to go during their set! I now have five or six new places to check out.
Sue told me about an afternoon tea the Teesside Federation was holding in September which had sold out but it sounded like the people who had got tickets were in for a really good time.
I had a quick chat with Caroline at the end of the night to say thank you for having me and for putting on a lovely evening. She said I was welcome to come back anytime and I'd love to take them up on the offer.
Thank you to the Hartburn Village WI for having me, I had a great time and was made to feel very welcome. It was nice to find out more about the Women's Institute and all the varied things that they do.
If you'd like to find out more about the WI you can visit their website: https://hartburnvillagewi.wordpress.com/
<< Afternoon Tees goes strawberry picking
>> From Tokyo to the Afternoon Tees
By
Kate
at 9 Jul 2017, 17:50 PM