In need of a tasty treat, we headed off to Kirkleatham Museum in Redcar. What did we think of the cheesecakes at Sophellies?
Note: Sophellies has now moved out of Kirkleatham museum, but is still baking tasty treats from their base in Redcar!
Given that the weather is absolutely terrible at the moment, any sight of a bit of sun means that we're running out of the house to make the most of the nice weather!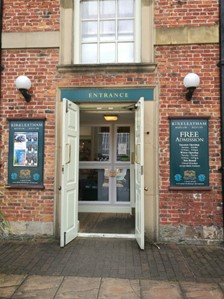 Last Friday was no exception. We'd heard that there was a new exhibition on at Kirkleatham Museum in Redcar so we decided to go and check it out.
If you live in Teesside, you may be aware of Kirkleatham as it is the home of the Festival of Thrift.
I totally forgot that it was the summer holidays until we got there, as the car park was absolutely heaving! Thankfully we managed to swipe a parking space as someone was driving away.
There is currently a robot exhibition on at the museum, which looks at robots, cyborgs and androids from films old and new. Although the main museum is free, you do have to pay to see the robots.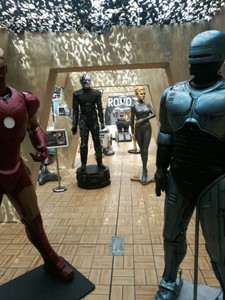 Although the robot exhibition was small, it was really interesting. The exhibition had loaned props from films including Iron Man, Robocop, Mars Attacks as well as Star Wars, and there were cool facts about all of them.
For example, did you know that the term 'droid' was coined by George Lucas?
After we had checked out the exhibition, it was time for a bit of lunch. Sophellies is located in the grounds of the museum and although I had never been, I'd seen their Instagram and was tempted by their awesome looking cheesecakes, which are made especially for the cafe.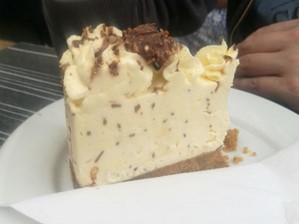 As you would expect, Sophellies was quite busy and there was a little bit of a queue. This gave us time to work out which cheesecake we wanted!
We opted for a slice of Ferrero Rocher cheesecake and a slice of strawberry meringue cheesecake. We took a seat and the staff brought them over for us.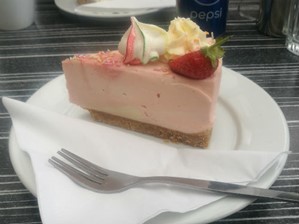 The cheesecake slices are £3.50 each, which isn't too bad, bearing in mind you'd probably pay £2.50 for a slice of cake in Starbucks. Plus the slices are massive! I struggled to get through two-thirds of mine.
Both the cheesecakes were really good and beautifully decorated. The strawberry cheesecake had a little multicoloured meringue on it (I'm not sure how they make them like that) and the Ferrero Rocher cheesecake was covered in edible gold glitter, which was a lovely touch.
Definitely worth the trip. Robots and cheesecake, what's not to like!
<< Scone alone: is it okay to go to afternoon tea by yourself?
>> Throwing an afternoon tea - the Afternoon Tees challenge!
By
Kate
at 7 Aug 2017, 20:04 PM