We're taking a trip to Stockton to visit the Remember Me Tea Rooms for a 'Beauty and The Beast' themed afternoon tea.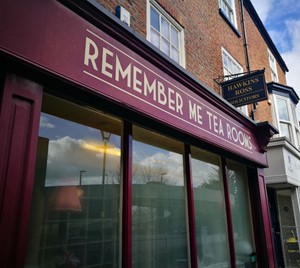 It was Mother's Day last week and like last year when we went to 12 Harland Place, I promised my mum an afternoon tea at the venue of her choice. She said that she's heard good things about the Remember Me tea rooms so I said I'd get it booked.
Located just off Stockton High Street, near the Green Dragon Yard and Georgian Theatre, I've been to the Remember Me tea rooms for a cup of tea before but never afternoon tea. It's a small place and if you want to get booked in on a Saturday you do have to book a few weeks in advance (luckily I had a Monday off work so we decided to book in for then.)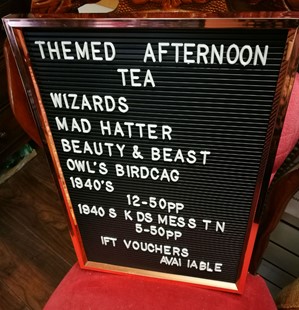 When you book, you have a choice of either a standard afternoon tea, or you can pay a little more for a themed one. I decided it would be nice to try the Beauty and the Beast themed afternoon tea, as these seem to be very trendy at the moment.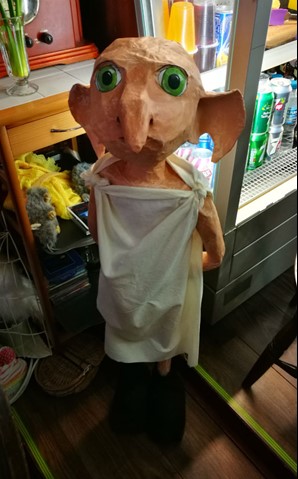 Although this little fella did tempt me into trying the Wizard themed afternoon tea!
When we arrived for the afternoon tea, the table was set up all ready for our arrival and it looked fabulous! Rose petals were strewn across the table, and there was a light up rose and a Lumiere candlestick on there too.
As soon as we sat down, a member of staff asked us what type of sandwich we wanted from the menu and what hot drink we wanted and within five minutes the food and a pot of tea (covered with a yellow tea cosy with a rose on top!) were on the table.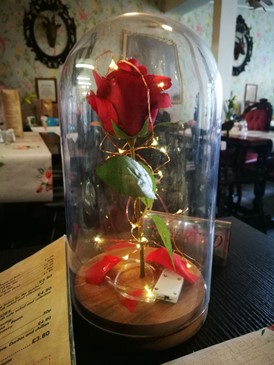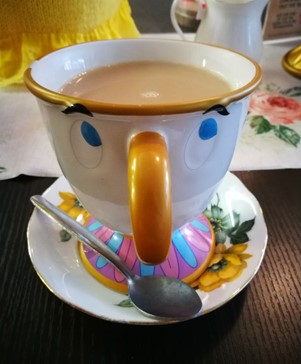 The Chip cups were a fab touch and the great bonus was as they were so big, they held a lot of tea!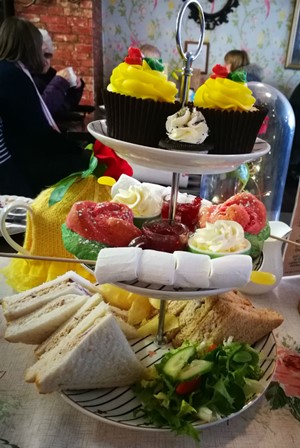 Onto the food!
Although the food was quite simple, it stayed very true to the Beauty and the Beast theme. After we ate our sandwiches we moved onto the scones. Now... the scones were nothing like we had ever seen before... they were pink and green and were shaped like roses. Before we picked them up were weren't even sure what they were!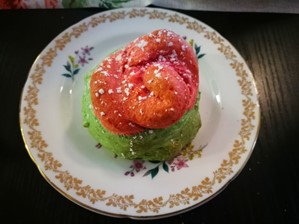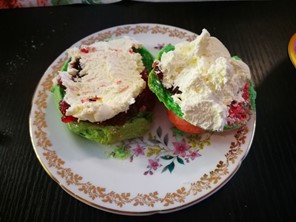 Do you know what the weirdest thing was though? Despite being coloured pink and green, it tasted exactly like a delicious plain scone. I was really impressed, so much so that even the fact that they scones came with whipped cream (which you'll know is one of my pet peeves) didn't bother me at all.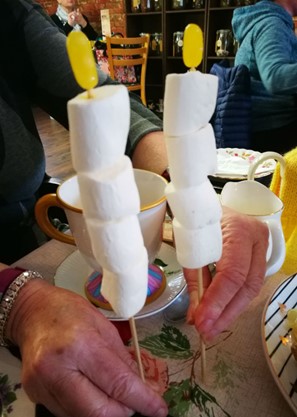 Next up were some marshmallows with a jellybean on top to represent a candle. I thought this was really cute, and wished that I'd got myself a hot chocolate to dunk the marshmallows in!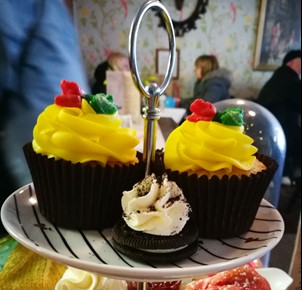 The final sweet treat was a cupcake with yellow glittery icing and a little rose. The cake was moist and had loads of sweet buttery icing on top.
The attention to detail for afternoon tea here is absolutely amazing, and although you might not get as good of a feed as in other afternoon teas, the price is great, as is the execution of the afternoon tea. I'll definitely be back to give the other afternoon teas a try!
Afternoon tea menu at Remember Me Tea Rooms
Choice of tea, coffee or hot chocolate

Sandwiches (I went for tuna and red onion)

Crisps and salad

Rose-shaped scone with jam and whipped cream

Desserts

Marshmallow and jelly bean 'candle stick'

Cream and cookie topped oreo

'Rose' cupcake
Scores on the doors for afternoon tea at Remember Me Tea Rooms
Check out the rest of our 'scores on the doors'. Which afternoon tea is the best?
Ambience - A cosy cafe, with a fabulous theme and friendly service 5/5
Sandwiches - A basic range of sandwiches, but they were well-filled and tasty 4/5
Scones - The rose shaped scone was beautiful, and tasted really nice too (so much so that I can forgive the whipped cream!) 5/5
Sweets - The sweets were very simple, but inventive and in line with the theme of the afternoon tea  4/5
Value for money - £12.50 for a themed afternoon tea is great value, although it was a very simple afternoon tea the execution was outstanding 5/5
<< Afternoon Tees visits the Brick Train
>> The Afternoon Teescup: Jollybrew Rosie Lee Tea
By
Kate
at 19 Mar 2018, 19:40 PM