For the first afternoon tea review on the Afternoon Tees blog, we ventured out to the Cleveland Tontine in Northallerton for cakes, scones and sandwiches.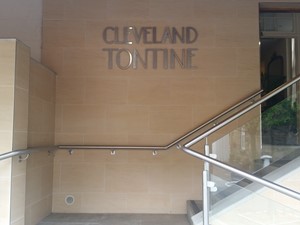 If you travel up and down the A19 a lot, you may see the Cleveland Tontine hotel and restaurant from the side of the road. It was the first time I ever went, and it's a bit fiddly to get to from the dual carriageway, but it's a lovely location with lots of vintage touches. When you're in there, you wouldn't even think you were on the side of a main road!
When we went into the hotel we were greeted and taken into the 'Morning Room' where afternoon tea is served. The room was pretty and chintzy, with a beautiful view of the Cleveland Hills. If the weather is sunny you also have the opportunity to take your tea in the garden.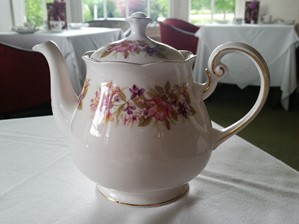 There were a wide range of loose leaf teas to try - including old favourites like English breakfast and Earl Grey, as well as more unusual flavours like Green Sencha and Orange Pekoe. If tea isn't your thing, you could also have a cafetiere coffee or glass of champagne.
You had to remember that it was loose leaf tea and you needed a strainer to pour it into your teacup… I forgot a few times and ended up with a mouthful of tea leaves! They did say on the website that "we'll make sure your cup is always full" and they weren't kidding - I think I drank about two teapots worth of tea!
So... onto the food. It looked very dainty, starting with little finger sandwiches of various flavours. I stayed clear of the egg mayonnaise (not my favourite sandwich filling) but the coronation chicken and smoked salmon were yummy. There was also a cheese scone and a pithivier, which is like a posh cheese straw.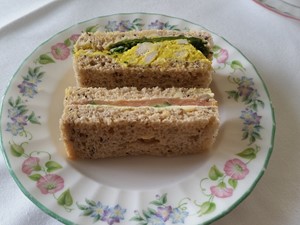 There was a fruit scone with homemade jam and clotted cream as well as homemade passion fruit curd if you wanted a dollop of something less traditional.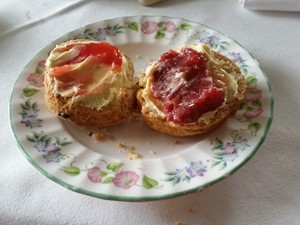 There were a lot of miniature sweet goodies at the very top of the cake stand; a chewy apple and toffee macaron, a cream-filled mini eclair, a Battenberg cake, an egg custard tart and lemon posset.  I was too full to try my lemon posset, but I was told that it was zingy and very refreshing.
You could tell that all the food was made in house - even the jam was homemade; with nice big juicy pieces of strawberries in it.
Afternoon tea at the Tontine is £15.95 - for the quality of food and amount you get this is really good value, plus you don't feel rushed - we stayed for about two hours and ended up taking a box of treats home with us!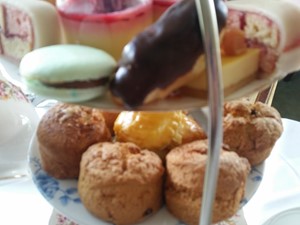 I'd definitely go back again.
Visit www.theclevelandtontine.co.uk for more information and to book.
Afternoon tea menu at the Cleveland Tontine
Note: The menu at the Cleveland Tontine is seasonal, so it may be subject to change.
Bottomless cafetiere coffee and loose leaf tea
Sandwiches:

Beef, horseradish and red onion
Coronation chicken
Smoked salmon, cream cheese and cucumber
Egg mayonnaise and watercress

Scones:

Parmesan cheese scone
Blue cheese, leek and spinach pithivier
Fruit scone
Homemade strawberry jam, passion fruit curd and clotted cream

Sweets:

Lemon posset and raspberry jelly
Chocolate eclair
Toffee and apple macaroon
Battenberg cake
Custard tart with poached rhubarb
Scores on the doors for afternoon tea at the Cleveland Tontine
Check out the rest of our 'scores on the doors'. Which afternoon tea is the best?
Ambience - although it's not the easiest place to get to, the Cleveland Tontine is a fantastic venue, with very friendly staff 4/5
Sandwiches - the sandwiches were very dainty, and delicious 4/5
Scones - not only did you get a cheese scone and a fruit scone with your afternoon tea, but you got yummy homemade things to splodge on them too! 5/5
Sweets - if you have a sweet tooth, you will love the desserts. The staff are more than happy to box up any leftovers too 4/5
Value for money - afternoon tea at the Cleveland Tontine is great value for money 5/5 
>> Afternoon Tea at the Olde Young Tea House
Pin this post!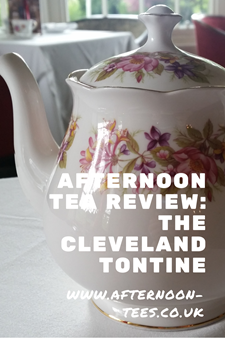 By
Kate
at 10 Oct 2016, 20:53 PM