We're always up for trying new things at Afternoon Tees - so we decided to make a pie with homemade shortcrust pastry! Find out how we got on.
I have a bit of a shameful confession to make… I have never ever made my own pastry before!
I've made sweet and savoury pies and tarts before, but I've always used shop-bought pastry. When I was looking at my old New Year's Resolution post, I noticed that one of my resolutions was to learn how to decorate cakes properly. Although this hasn't happened yet (hey, we're only eight months into the year, there is still time!) I thought it might be a good time to put my amateur pastry-making skills into practice.
I decided to make a cheese, potato and onion pie with some shortcrust pastry. If you're a pastry novice like me, shortcrust pastry is a good place to start. Puff pastry is a little bit more complicated.
Simple shortcrust pastry only needs four ingredients – plain flour, fat, water and salt. I took my recipe from the BBC Good Food website and then I was ready to go!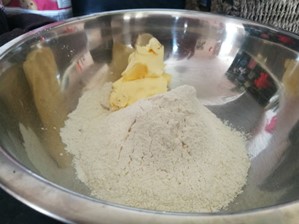 First, sift your flour into a bowl and then add your fat. BBC Good Food recommends butter, but I didn't have any. I checked that margarine would be an appropriate substitute and was told it would be okay (plus, it makes your pastry vegan which is a nice bonus). I mixed the two together with my fingers until it started to look like breadcrumbs.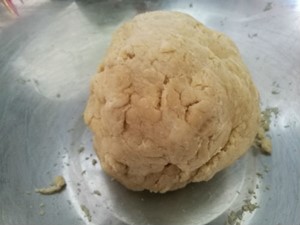 Next step – add water and mix the crumbs together until it forms a ball of pastry. You want to add your water a spoonful at a time, just to ensure the consistency is right. Not enough water and your pastry will be dry. Too much and your pastry will be sticky.
Once it's ready, wrap your ball o'pastry in clingfilm (I made two just in case one went wrong!) and put it in the fridge to chill for at least an hour. This will firm it up and make it easier to use. I notice my ball of pastry was quite yellow, more so than when I use shop-bought pastry, but I think this might be down to using margarine.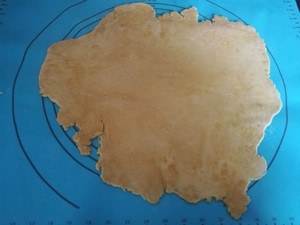 So, I made my pie filling when the pastry was in the fridge and then was onto the next step… rolling the pastry out. I was given a nifty silicone sheet that you can use to roll your pastry out without making a sticky mess, but if you don't have one, you can just flour your work surface.
Rolling out pastry is tough! I think I nearly burnt enough calories for eating the pie later!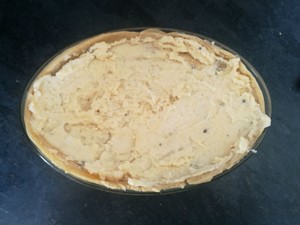 I had enough pastry to make a full pastry case for the pie, plus some pastry left over for making some little pies.
Once the pie filling was safely nestled in its pastry case, into the oven it went. I forgot to put an egg-wash on top of the pie (this gives it a lovely brown colour) but once it came out, it didn't look bad at all.
Time to eat!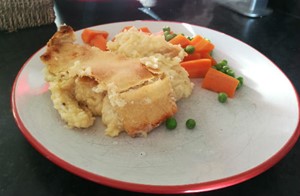 The pie was pretty decent, the pastry was nice and crispy and the filling was good and cheesy. 
I'd definitely make my own pastry again, it was dead easy and is a lot cheaper than buying it from the shop. You can even customise it by adding herbs or cheese to make your meals even tastier.
Do you make your own pastry? What do you make with it? Do you have any hints and tips for making it more delicious? Let me know in the comments!
<< Afternoon Tees goes to Saltburn
>> Afternoon Tea at The Parkmore Hotel
By
Kate
at 10 Oct 2017, 19:25 PM