Next Post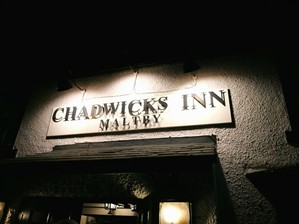 Well, Christmas is officially over - the tree is down, the decorations are back in the loft and so long to chocolates and prosecco... and hello to salad and cardio!
Before Christmas we went to Chadwicks Inn in Maltby for an epic five course meal from their Festive menu. We went there for Christmas a few years ago and enjoyed it so much, we decided to make a return visit!
If you've never been, Chadwicks Inn is a cosy little pub in Maltby, just outside Ingleby Barwick. It was originally called the Half Moon, and then the Pathfinders, to commemorate the former Royal Airforce Station based in Thornaby.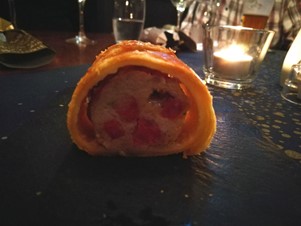 The Christmas menu cost £35 for five courses, which is fab value for money as Chadwicks Inn is well known for very high quality food. First course was a little chorizo and sausage roll. The sharp taste of the chorizo went really well with the fatty sausage meat - I might have to make all my sausage rolls this way in the future!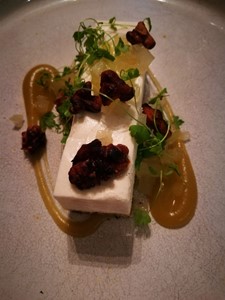 There were a few different starters to choose from, including salmon, parsnip soup, mackerel and corned beef. I went for a savoury cheesecake made of goats cheese - just because I love goats cheese so much! The tangy goats cheese came on a poppy seed crumb base, with toasted walnuts, celery and apple. It was really yummy, but it was quite big and I couldn't eat it all!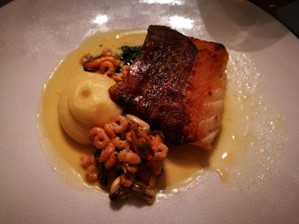 Mains included a lovely looking beef stew (my second choice!) and the traditional turkey dinner as well as duck and a warming winter stew as the vegetarian option.
Now I don't know about you, but if I go out for Christmas meals, I'm not a fan of a turkey dinner, just because I know I'll be eating loads of it during Christmas and New Year!
I decided to go for the fish as it sounded great on the menu - it was served with mash, spinach and a shellfish and cider broth. The hake was cooked well and was lovely and buttery, and as well as the mash, it was served with all the traditional festive veggies - carrots, sprouts, parsnips and red cabbage.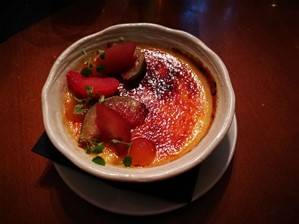 Onto dessert! The choices were homemade Christmas pudding, a chocolate delice, carrot cake and a cheeseboard for those who don't care for sweet treats.
I went for the creme brulee - it had a lovely sweet caramelised top and was served with spiced winter fruits including figs (I've only ever had fig rolls before, not proper figs... isn't that weird?)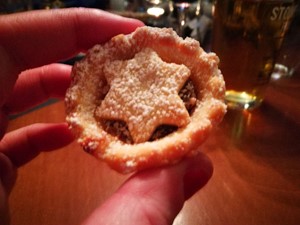 The final course was a little mince pie. It was a little bit doughy, but the mincemeat was good, and then I drank some wine!
It's a lovely little restaurant and bar with a roaring fireplace, and I'd like to go back sometime to give their a la carte menu a try.
Where did you go for your Christmas meal in December?
<< A review of our 2017 New Year resolutions
By
Kate
at 10 Jan 2018, 16:37 PM