Afternoon tea in sunny Stratford Upon Avon? Yes please! Find out more about our visit to the Fourteas tea room.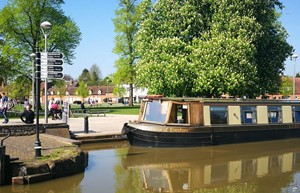 We decided to take a trip to Stratford Upon Avon on a sunny May bank holiday weekend, where we had a lot of fun walking along the canal, checking out all of the Shakespearean statues and of course, in true bank holiday tradition, eating lots and drinking lots!
There are a surprising amount of places where you can have afternoon tea in this little Medieval market town, so as we were down there, we decided to take a visit! We decided to go along to the Fourteas tea room, a themed 1940s tea room that was a two minute walk away from the Royal Shakespeare Company theatre. We went on the Sunday and the road was very busy as there was not only a market on in the square, but also a vintage vehicle display.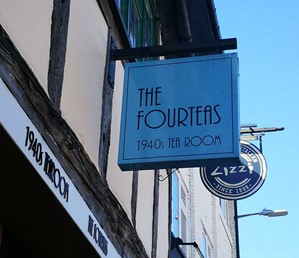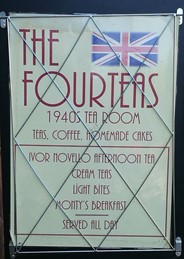 We booked beforehand and were very glad we did, as the place was very busy when we got there (when we left there was a queue outside!) 
When we got there there were lots of people still enjoying breakfast, but there was only one option for us (well... two if you count the afternoon tea with prosecco and the afternoon tea without prosecco!)
The tea room was entirely forties themed, from the outfits that the waitresses wore, to the ration book menus, to the fact that the afternoon tea was called the 'Ivor Novello'. There was even an Anderson air-raid shelter in the garden!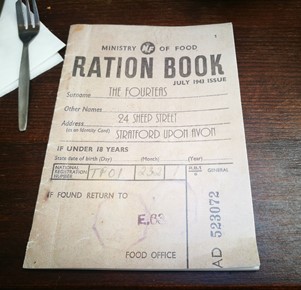 To start the afternoon tea, the very nice waitress asked us if we wanted coffee or loose leaf tea (served in an authentic 'Brown Betty' teapot and with a timer so you can measure the time your tea steeped to the strength you like it) and asked us to choose the sandwich we wanted from the menu; anything from smoked salmon and cream cheese to a humble jam sandwich.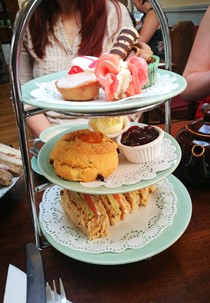 Now... I'm not sure if I prefer it where you get one flavour sandwich of your choosing, or a multiple selection of sandwiches, over the course of the blog I've been to afternoon teas that have done both. It's nice getting to choose your very own flavour of sandwich as you're choosing something you're going to enjoy, but it's nice to have the variety of different flavours too.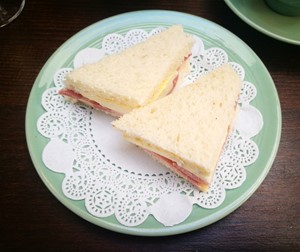 Anyway, I digress. I went with the brie and bacon sandwich on white bread and it was yummy, lots of crispy bacon mixed with creamy cheese. I am also told that the BLT was good too!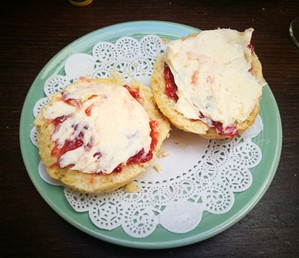 Next on the menu, not one but two scones! I must be getting greedier as I get older as I do grumble a little bit when I only get one scone instead of two with my afternoon tea. One fruit and one plain scone was served, with strawberry jam as well as clotted cream! The last two afternoon teas I went to served whipped cream instead and as you may know, I am not a fan! 
Interestingly, the debate about whether you put jam or cream first on your scone came up. The majority of people went for jam. It seems that cream first is more of a Southern thing, whilst jam first is more of a Northern thing!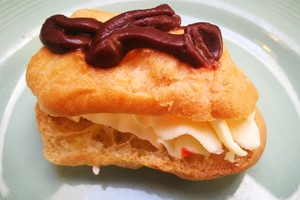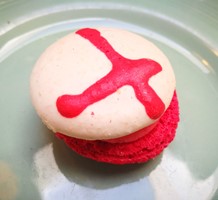 Finally, onto the desserts. There were lots of different desserts to choose from, from macarons and pastries to cherry bakewells and cupcakes, all of which were made inhouse. Unfortunately I didn't get to eat them all as I was too full from the sandwiches and scones, but the cakes I tried were delicious, especially the chocolate cupcake which was very moist and rich.
The only critique I had of the desserts, similar to Patisserie Valerie, is that each two people only get one of each type of cake, so you either have to split them or argue over who gets which one.
As this afternoon tea was eaten outside of the North, I decided not to give it an official score (if anyone ever makes a Southern equivalent of this blog hey, give me a call!) but if I had to give it a score, it would have ranked very highly indeed. The sandwiches, scones and cakes were fabulous, and the tea room itself had a wonderful retro vibe to it. Plus it was only £15 for afternoon tea (£20 if you had a glass of prosecco) which is great value for money for all the food you get.
'Ivor Novello' afternoon tea at the Fourteas tea room
Pot of tea or coffee
Sandwich of your choice
Fruit scone and plain scone with clotted cream and strawberry jam
Mini desserts including: macaron, eclair, cupcake and cherry bakewell
Although we have decide to not give a score for this afternoon tea, why not check out the rest of our 'scores on the doors?
<< The Afternoon Teescup: Storm Tea Rooibos Indian Chai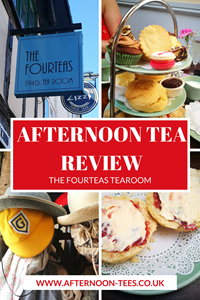 By
Kate
at 29 May 2018, 19:40 PM