This is a question I've pondered for a little while, and there doesn't seem to be much written about the subject. Is it acceptable to go for afternoon tea on your own?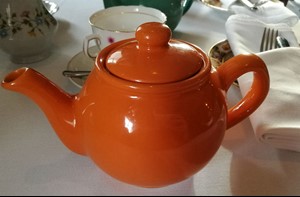 I first thought this when I went to London to visit a friend. Between my train coming in and meeting my friend after she finished work, I had a bit of time to spare, and I was tempted to go check out some of the cool afternoon tea venues. However, I'd have to go by myself.
To help write this blog post, I asked some of my Twitter friends if it was okay to go to afternoon tea by yourself, or if it was a little weird.
I've got no issues with going out for food or drinks on my own, I'll happily go to a restaurant and ask for a table for one (I did when I went to Middlesbrough last week) or sit in the pub with a pint and my Kindle. However, I've never done afternoon tea by myself, and when I asked around, not many other people had either.
No - afternoon tea is meant to be shared with friends!
English Cream tea said "IMHO: no! It's fine to tuck into treats home alone (a luxurious pause) but it misses the sharing/rapport bit!"
I think this is the main issue about going to afternoon tea on your own. Afternoon tea is a great excuse to go out with family and friends and have a chat over tea and cake. If you're going out on your own, you miss that socialising aspect.
A lot of afternoon teas I've seen are meant for at least two people, and are specifically priced for more than one person (especially if you go on a website like Groupon). Asking for a tea for one is going to get you at best, some funny looks or at worst, you'll have to eat two peoples' worth of scones and sandwiches. Which isn't always necessarily a bad thing!
Yes - it's okay to go to afternoon tea by yourself!
On the other hand, #CreamTeaHour said "Yes indeed! You can really enjoy the moment if you go solo!"
The main advantage of afternoon tea on your own is the flexibility. You can go wherever you want at anytime you want, and order what you want. You may meet some like-minded people enjoying afternoon tea on their own too!
Kate C said: "People get v hung up on doing things on their own - (it's) actually v nice!"
If you're still worried about going to afternoon tea on your own, Jenny Prigg said: "(Just) look enigmatic... pretend you are famous... an author... movie star... secret celebrity."
In the end, I didn't go for afternoon tea on my own in London, but this doesn't mean I wouldn't in the future!
Have you been for afternoon tea on your own? If you own or work in a restaurant, have you seen many people order afternoon tea for one? Let us know in the comments or on social media!
<< From Tokyo to the Afternoon Tees
>> Sophellies cheesecake at Kirkleatham
By
Kate
at 25 Jul 2017, 22:02 PM