Ever wondered who invented afternoon tea? Find out more about the history of afternoon tea and who we have to thank for this tasty treat of tea, sandwiches, cakes and scones!
As nice as it would be to be able to go out for afternoon tea every week, I don't think my wallet or waistline would be able to cope! With this in mind, I've done a bit of research into what afternoon tea is and have put together a little history of the delicious meal. Hope you enjoy!
Check out our reviews of afternoon tea on the blog so far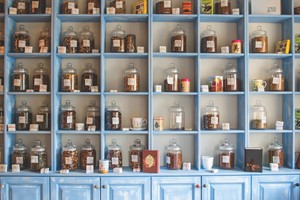 Anna, the lady who started it all
If you are a diehard fan of afternoon tea, you may be aware of Anna Stanhope, the seventh Duchess of Bedford, the lady accredited with starting the trend for afternoon tea. In the Victorian era, it was common for people to only eat two meals a day.
During the 1840s, knowing that supper was going to be served late that night as was the fashion at the time, Anna asked for some food to be brought to her room during the afternoon in order to tide her over. With this relatively simple meal of tea, cake and bread and butter, the phenomenon of afternoon tea was born!
She began requesting this on a daily basis and it wasn't long before she invited her friends up to her parlour to join in. When she moved to London, the trend moved with her.
Queen Victoria - a fan of afternoon tea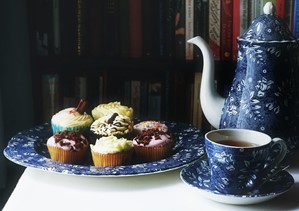 Anna was a lady in waiting to Queen Victoria, and the Queen was one of the early adopters of the trend (after all, you can't have an afternoon tea without a Victoria sponge!).
By the 1860s, afternoon tea had become a lot more popular, and a lot fancier. People dressed up for it, and it was often eaten outside in gorgeous gardens full of flowers.
Manufacturers started making linen, china teacups and silverware especially for afternoon tea, and it became a massive social occasion. Before the existence of social media, upper-class women used it as an opportunity to dress up in all their finery and find out the latest gossip and scandal.
Taking afternoon tea in the tea houses of London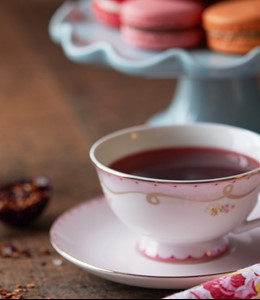 The Langham Hotel in London claimed to have served the first afternoon tea outside of the home in 1865. Tea rooms skyrocketed in popularity in the 20th century, not only with the upper classes, but the middle classes too.
Afternoon tea became a means for women to leave the confines of their houses without the need for a chaperone and catch up with friends. The Suffragettes met at tea rooms across London to forward their campaign over cups of tea and slices of cake.
Tea dances were also introduced, where young people could have tea and cake, and then enjoy some ballroom dancing and music.
Afternoon tea - decline and resurgence
Prices of tea skyrocketed in WWI due to German submarines sinking ships carrying cargo, was rationed in Britain during World War II, and continued to be rationed until 1952. This led to a decline in the popularity of afternoon tea for a short while.
However, afternoon tea soon experienced a revival, first with tourists who wanted to experience a quintessential English ritual while they were on holiday, and then with people who wanted to try something quirky and vintage. And that takes us up to the present day, where many restaurants, cafes and bistros (as well as spas and pubs!) offer their own unique take on afternoon tea.
So, whenever you nibble a crustless sandwich, sip a glass of prosecco, or plop a spoonful of clotted cream on a fresh warm scone, think of the Duchess of Bedford and the Victorian ladies who kick-started the afternoon tea trend.
<< Afternoon tea at the Ingleby Barwick Bistro
>> Afternoon tea at The Keys in Yarm
Pin this post!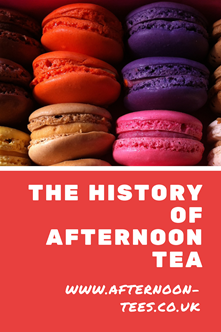 By
Kate
at 7 Feb 2017, 17:54 PM