We had a very special afternoon tea on a train recently! Find out more about our enjoyable experience on the Wensleydale Railway.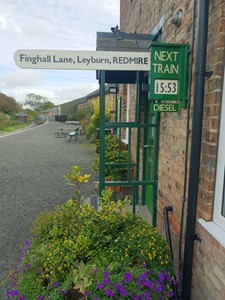 Last weekend we drove into Leeming Bar in North Yorkshire in order to hop on the Wensleydale Express, with service and food provided by Institution cafe in Bedale. This special train takes visitors through the countryside and hosts a wide range of special events, including afternoon tea weekends.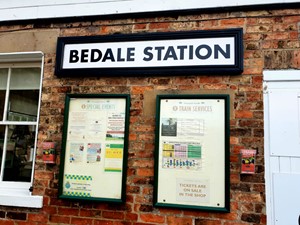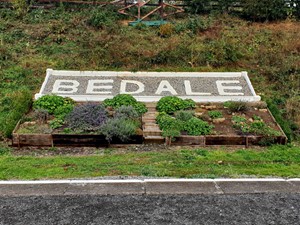 We got on at Bedale station, checked in and waited for the train to arrive. Bedale is a proper old-fashioned railway station... you won't find a Costa or Pumpkin coffee shop here!
The diesel train rolled into view and we got on board. Afternoon tea was held on two coaches, and there were fourteen people on our coach. Our coach was served by not one, but two waitresses, who introduced themselves before the train rolled away they and explained the itinerary for the trip.
If I was being honest, I was expecting the coach we were on to be a little bit more grandiose, but one of the waitresses mentioned that the original carriage had experienced a bit of a shunt and was not in operation at the moment. It was still nice though, I loved the crockery (which I overheard came from the V&A museum).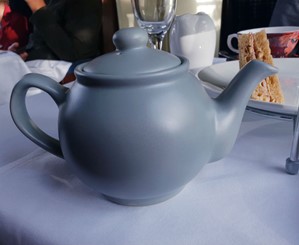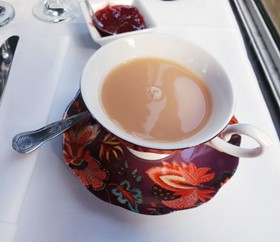 When we got on the train we were offered a glass of prosecco or orange juice, and then some tea and coffee - as there were two waitresses looking after fourteen people the refills were very regular!
The waitresses talked us through the afternoon tea which I like, some afternoon teas don't do this and you have to make an educated guess about what you are eating! Sandwiches came first, the flavours were the traditional ones including ham, egg mayonnaise, cucumber and cheese. The cheese one was particularly delicious and came with homemade ginger and carrot relish. There was also a little pastry case filled with salmon mousse which was a nice touch.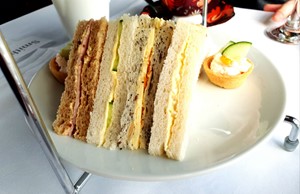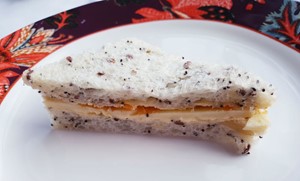 The bonus was there were unlimited refills on sandwiches, which we took advantage of! Not too many though, as there were still scones and cakes to go...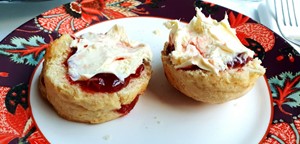 The afternoon tea came with two scones - a fruit scone and a cherry and almond scone. It's always nice to get two scones, plus the cherry scone was a pleasant surprise (it's usually fruit and plain!) The scones were good and full of plump fruit, and came with a decent-sized serving of jam and clotted cream
The desserts were very fruity, from the chocolate covered strawberry to the fruit covered meringue (with a little hidden blueberry inside!) Even the profiterole had a cherry flavour to it.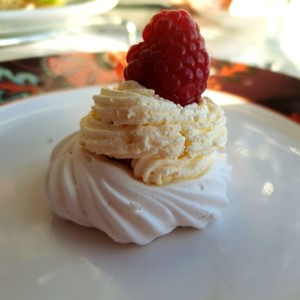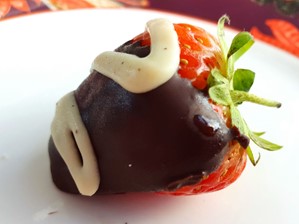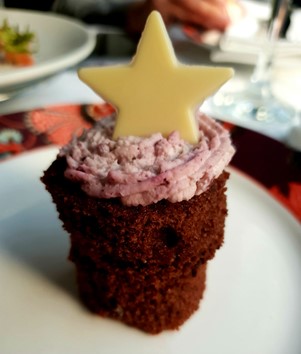 Afternoon tea on the train lasted two hours in total and the waitresses explained where the train was going at the start of the trip. We headed off from Bedale and went through Leyburn, ending up in Redmire. The train then stopped for ten minutes and we could get off for a leg stretch before the train returned to Bedale station.
Look at the view we had from our window - isn't it lovely?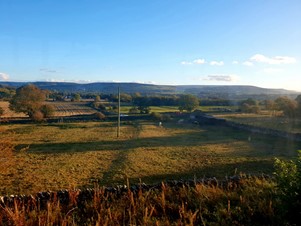 It cost £42.50 per person for afternoon tea, which some of you might raise an eyebrow at, but remember that you're not only getting a fab afternoon tea, but a trip through the Yorkshire Dales.
This would be a good afternoon tea to take parents or grandparents on as a special treat!
To find out more about the railway visit: www.wensleydalerail.com
Afternoon tea menu on the Wensleydale Railway
Choice of tea or coffee, and a glass of prosecco
Sandwiches:

Cheese with homemade ginger and carrot relish
Ham 
Cucumber
Egg mayonnaise
Salmon mousse pastry

Luxury fruit scone and cherry and almond scone with jam and clotted cream
Desserts:

Chocolate covered strawberry
Meringue with fruit and whipped cream
Profiterole
Chocolate sponge cake
Scores on the doors for afternoon tea on the Wensleydale Railway
Check out the rest of our 'scores on the doors'. Which afternoon tea is the best?
Ambience - A little bit of a shame about the original coach being out of order, but the staff were very friendly and attentive... plus what a lovely view! 5/5
Sandwiches - Unlimited sandwiches and nice fresh flavours 4/5
Scones - The scones were fantastic, the cherry and almond scones were a great touch 4/5
Sweets - There weren't many desserts and they were very simple, but done very well 4/5
Value for money - The most expensive afternoon tea we've had so far, but a very memorable experience and something definitely worth trying once 4/5
<< The Afternoon Teescup: Jollybrew Pumpkin Spice tea
>> Afternoon Tees goes to the Scream Factory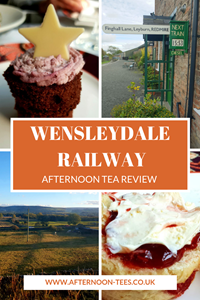 By
Kate
at 8 Oct 2018, 21:45 PM