A bit of a departure from the usual North East venues as we take a trip to East Anglia to visit the popular Folly tearoom!
Just before Christmas we headed off to Norwich to see family and while we were there we visited Holt, a little market town. It was very busy but there were lots of lovely shops to visit. 
As we're fans of afternoon tea, we were told that we absolutely had to visit the Folly tearoom. Nestled away in a little corner of Holt, the tearoom has a lovely garden area (although as we visited in December it was too cold to eat outside!) and a fab 'Alice in Wonderland' vibe to it.
We popped inside and it was very busy indeed. The waitress asked if we had booked. Erm... She was about to tell us there was no room when another waitress piped up and said there was a table available if we didn't mind leaving in an hour and a half for a booking. Result!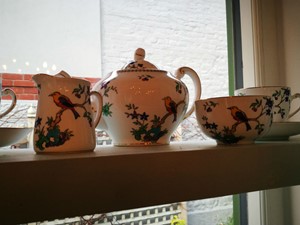 The tearoom was very small and filled with teapots and teacups, very kitsch decorations. There was a mix of young and old there, and there was a large table booked up for afternoon tea for a baby shower.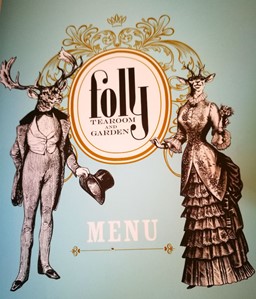 The menu was very varied - you could order a breakfast, afternoon tea, a sandwich as well as a wide range of desserts. There was even a separate wine menu!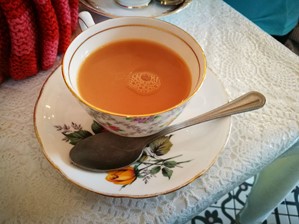 We decided to go for a "fruit folly" - which consisted of a pot of tea and two fruit scones with jam and clotted cream. There were also plain and cheese scones available, which were served with butter and chutney.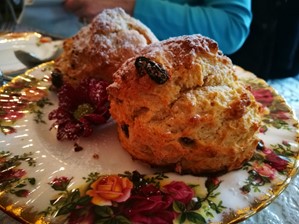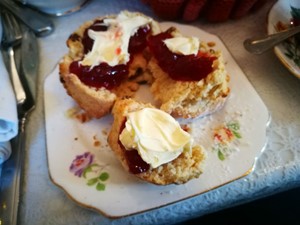 The scones were freshly baked, delicious and massive! They were served on mismatched china plates with a bowl of clotted cream and jam.
We do feel a bit naughty doing a review of a non-Teesside venue but it was really a lovely quirky venue with yummy food (although if we had one minor criticism, service was a little slow.)
And hey, scones and jam are great no matter where you eat them!
<< Afternoon Tees makes a Christmas cake
>> Christmas menu at Chadwicks Inn
By
Kate
at 22 Jan 2018, 10:17 AM