Just for a little bit of fun, I've put together an afternoon tea alphabet. From A to Z, what is your favourite letter?
Anna Stanhope, Duchess of Bedford
A is for Anna Stanhope; Duchess of Bedford, lady in waiting to Queen Victoria and the inventor of afternoon tea.
Knowing that her dinner was going to be served late in the evening, she asked for some cakes and tea to get her through the afternoon… and the rest is history!
Baked goodies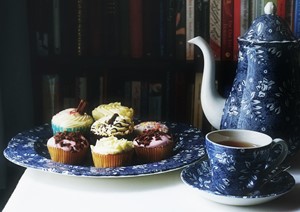 Sweet treats are essential for a good afternoon tea, with cakes and pastries being a perfect way to round off your meal.
Some of my favourite treats I've enjoyed on the blog so far include Guinness cake, apple sponge and blueberry cupcakes. What do you look forward to most when you go out for afternoon tea?
Cocktails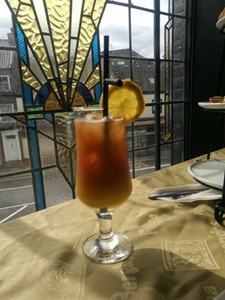 A lot of modern afternoon teas offer cocktails instead of the traditional pot of tea or glass of bubbly!
Have you been to afternoon tea with cocktails?
Devon style v Dorset style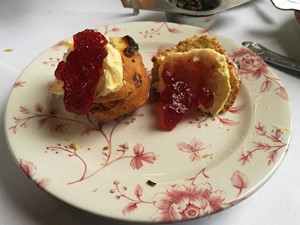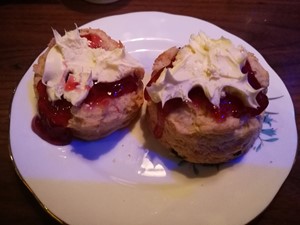 Everybody knows that scones have to be served fresh out of the oven with clotted cream and jam. However… did you know the order you layer the cream and jam on your scone says a lot about you?
'Devon style' is when you put the clotted cream on first and 'Dorset style' is when you put the jam on first. Each method has its supporters and detractors. Personally, I like both and like to mix it up when I go for afternoon tea!
Are you team 'jam first' or 'cream first'?
Etiquette
Oh boy… there are a lot of rules if you go for afternoon tea. Don't stick your little finger out when drinking tea, don't use a knife to cut your scone, put the milk in last… the list goes on.
I'll probably get round to writing a blog post about my thoughts one day but I believe afternoon tea shouldn't be exclusive and you should be able to do what you want (within reason!)
Finger sandwiches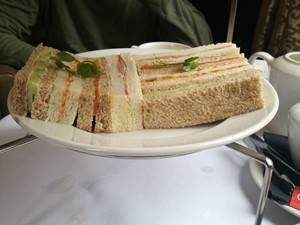 Sandwiches are the best way to kick off an afternoon tea. Traditionally they have the crust cut off and are small enough to be demolished in two or three bites but I've been out for afternoon teas where the sandwiches are a lot more substantial!
Gentleman's afternoon tea
This is a new thing and there are quite a few places in the North that serve it. If you go for this type of afternoon tea you will be treated to things including sausages rolls, scotch eggs, whisky and perhaps even a cigar!
Although let's not be sexist, both men and women can enjoy afternoon tea, whether it's cakes and prosecco, or liquor and pork pies!
Find out about the time I went to a Gentleman's afternoon tea!
High tea
Sometimes 'high tea' is used as a synonym for afternoon tea, especially outside the UK. It originally derived from the meal that factory workers in the North and Scotland used to have when they came home from work and consisted of tea, bread, meat and vegetables, but the definition has changed over time.
Indulgence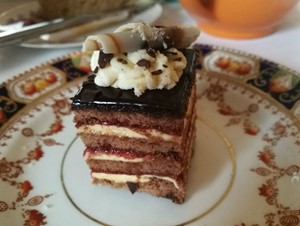 Short but sweet, there's nothing more indulgent than an afternoon tea!
Jam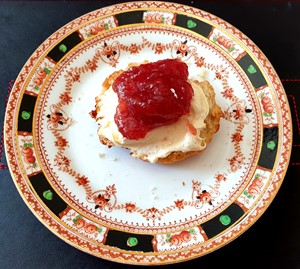 All afternoon teas need to serve scones, and there needs to be lots of jam served alongside those scones! Strawberry and raspberry jam are the favourites, but it's not uncommon to see more exotic flavours (I once had a really delicious passionfruit curd!)
Kornflake cakes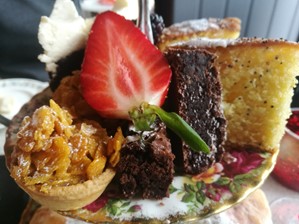 Yep... Sorry about the typo but I couldn't think of anything that began with a K!
I think my favourite afternoon teas are the ones which mix the traditional with the quirky. I recently went to an afternoon tea which served a little cornflake cake alongside the rest of the desserts. I hadn't had one since school and it was delicious!
Loose leaf tea

The sign of a quality afternoon tea is when they serve loose leaf tea instead of teabags. You get a strainer to put over your teacup to catch all the solids.
Don't forget to use the strainer, otherwise you'll get a mouthful of soggy leaves!
Macarons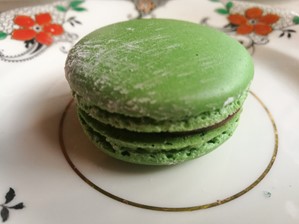 Macarons (not macaroons, they're something completely different!) are little chewy meringue sandwiches. If made right, they're totally delicious, and I get super excited when they appear on an afternoon tea menu!
North East
There are lots of wonderful places to have afternoon tea in the North East, from rural hotels to bars in the city centre. Afternoon Tees is dedicated to reviewing as many of them as possible!
Oranges (and other fruit)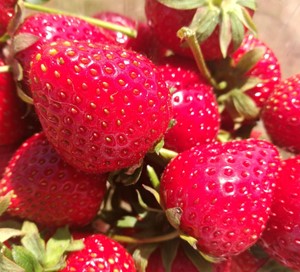 One trend I've noticed is that afternoon teas serve fruit alongside their desserts, as a way to cut through the sweetness of the cakes. Strawberries, raspberries and blackberries seem to be popular at the moment.
Prosecco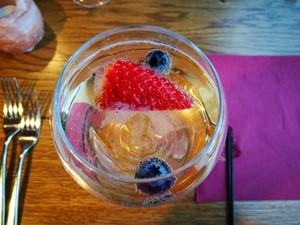 A cheeky glass of prosecco (or champagne if you're feeling fancy) can turn a good afternoon tea into a fantastic one!
Queen Victoria
Anna Stanhope, the inventor of afternoon tea, was the lady in waiting for Queen Victoria. When the Queen found out about afternoon tea, she loved it and helped spread the tradition far and wide.
Red velvet cake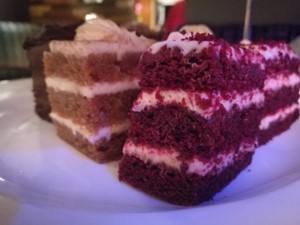 Red velvet cake is a red layer cake with cream cheese frosting, originally from America. It's become very popular in the last few years and is gracing many afternoon tea platters.
Scones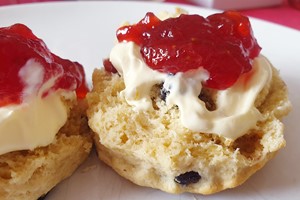 All afternoon teas have got have scones! The best ones are large, full of fruit, fresh out of the oven and you've got to be able to put your own jam and clotted cream on them (pre-prepared ones are a no no!) 
Trifle
I went to an afternoon tea earlier this year which served a mini trifle. I'm not usually a big fan of trifle, but it was really good, and nice to have something a little bit different!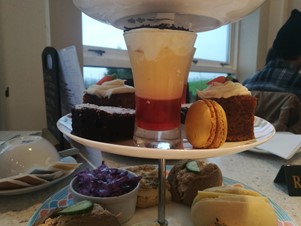 Unusual venues
The great thing about afternoon tea is that you can have it anywhere, from a countryside hotel to a quirky cocktail bar. I've been to lots of different places so far!
Vegan afternoon tea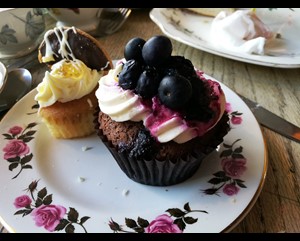 Do you have specialist dietary requirements? If so, as long as you let the venue know, they'll be happy to accommodate your needs. I enjoyed a lovely vegan blueberry cupcake when I went out to afternoon tea at the Olde Young Tea House.
Where's the best afternoon tea?
That's the question I ask on our blog!
You can see my league table of afternoon teas here.
Xtras to take home
Can't finish your afternoon tea? No problem. Most venues will be more than happy to wrap up your leftovers for you to take home to enjoy later. 
Yuletide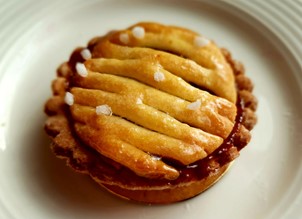 I didn't get chance to go out for a festive afternoon tea last year (I did try... honest!) but there are lots of cool Christmas afternoon teas where you can enjoy mince pies, turkey sandwiches, and perhaps a glass of mulled wine!
Update: I managed to go for a festive afternoon tea at Wynyard Hall!
Zzzz… oh, this post is over!
And that's it for my afternoon tea alphabet. Seriously though, I racked my brain and couldn't think of anything that started with Z!
<< Afternoon tea at 12 Harland Place
>> Afternoon tea at Chapters Hotel
What would feature in your afternoon tea alphabet? Let me know in the comments or on social media!
Pin this post!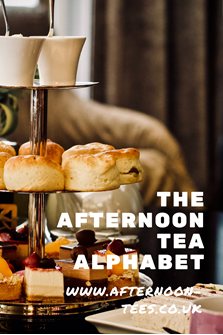 By
Kate
at 19 Apr 2017, 20:49 PM