It's been a long time coming, but we finally made it to Wynyard Hall for afternoon tea! Find out what we thought of their festive spread.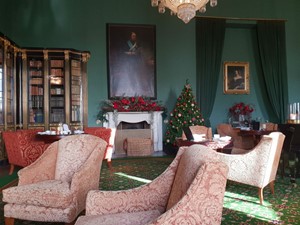 We've been trying to get to Wynyard Hall ever since we started the blog. Last Christmas we went to Wynyard Hall for ice skating and cake but this November we finally got round to booking in for afternoon tea!
At Wynyard Hall you can have a 'traditional' afternoon tea with sandwiches and scones, or a 'gentleman's afternoon tea' that comes with a complementary glass of whisky. This time we went for the traditional afternoon tea.
As you're probably aware if you read the blog, we have never been for a Christmas afternoon tea. However... when we sat down for afternoon tea we noticed that Wynyard Hall had its Christmas decorations up! The waitress mentioned that the Christmas tree went up a few days ago. Does this mean it's our first official Christmas afternoon tea? We think so!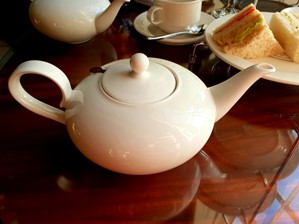 We opted for a glass of prosecco with our afternoon tea (you could also have champagne if you wanted) and then a pot of loose leaf tea, served in one of the loveliest teapots we've seen on the blog.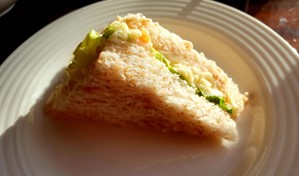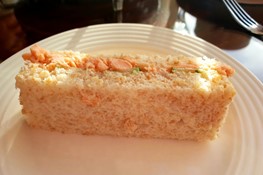 The sandwiches were your traditional flavours - egg mayonnaise, ham and cheese savoury. The cheese savoury was very nice, but it did have some massive lettuce leaves in there which we ended up having to pick out. The salmon sandwich was the most delicious, afternoon teas we've been to in the past have offered slices of smoked salmon, but Wynyard Hall's offering had lovely smokey flakes of fish, alongside some very nice pickled bits of cucumber.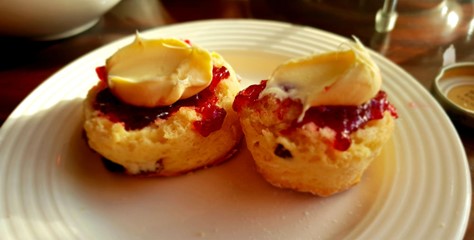 Onto the scones! We got two scones at Wynyard Hall, one plain and one fruit, served with clotted cream and a little jar of raspberry jam. The scones looked a little small when we got them, but they were deceptively small and filled us up!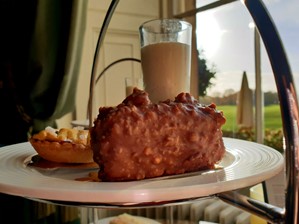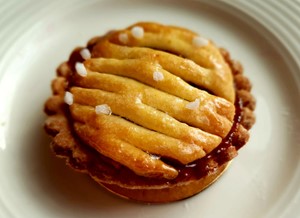 The desserts had a Christmassy twist to them. Our waitress didn't tell us what the desserts were so we had a bit of fun trying to work out what they were! There was a mince pie that was full of flavourful mincemeat, an eggnog syllabub that tasted of cinnamon and nutmeg without being too overpowering, and a very rich chocolate delice.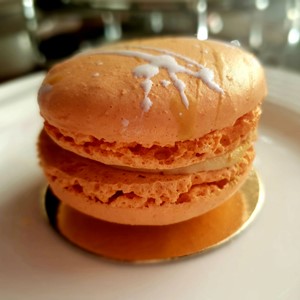 Our favourite dessert though was an absolutely massive chocolate orange macaron - we're used to little teeny-tiny delicate macarons so it was a treat to see one that was so huge! It had a lovely subtle orange flavour and was filled with lots of yummy chocolate.
What did we think of afternoon tea at Wynyard Hall? It was great - the food was delicious and the setting was exquisite, we got to sit by the window by the river and watch the geese and ducks. We'll definitely be back to try the gentleman's afternoon tea!
Afternoon tea menu at Wynyard Hall
Choice of loose leaf tea or coffee, and a glass of prosecco
Sandwiches:

Ham and tomato with mustard mayonnaise
Cheese savoury
Egg mayonnaise
Roast salmon, dill and cucumber

Fruit scone and plain scone with jam and clotted cream
Desserts:

Chocolate delice
Eggnog syllabub
Mince pie
Chocolate orange macaron
Scores on the doors for afternoon tea at Wynyard Hall
Check out the rest of our 'scores on the doors'. Which afternoon tea is the best?
Ambience - A beautiful room for afternoon tea with a fabulous view! 5/5
Sandwiches - Not my favourite part of the afternoon tea, but the salmon sandwich was yummy 4/5
Scones - Nice and fresh, and deceptively filling! 4/5
Sweets - Lovely Christmas themed desserts, especially the macaron 5/5
Value for money - We paid £29.50 for afternoon tea with a glass of prosecco and it was worth every penny  5/5
<< The Afternoon Teescup: Jollybrew Pumpkin Spice tea
>> An update from Afternoon Tees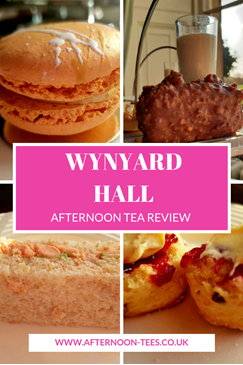 By
Kate
at 12 Nov 2018, 21:45 PM