It's a popular bar and nightclub on Yarm High Street, but what are the afternoon teas like? Join us for afternoon tea with a Valentine's Day twist.
It wouldn't be Valentine's Day without cake and a glass of fizz, so I booked into The Keys at Yarm for a special afternoon tea treat.
The Keys on Yarm High Street has been around for ages (I remember dancing on the light-up dance floor upstairs when I was in college) and although I have had drinks there before, this is the first time I've eaten here.
We got there a few minutes late but were immediately taken to one of the cosy booths. The Keys is all about the mod cons, which is great if you're not a fan of the traditional afternoon tea. The booths have little televisions so we got to watch Shrek 2 while we had our afternoon tea. There's free WiFi too.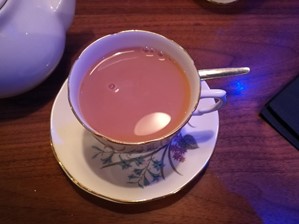 There was one thing that was a bit annoying about afternoon tea in such a modern venue. There was a party going on upstairs in the club, so not only did you have the music downstairs but the music upstairs too, which was a bit cacophonous (who would have thought that a blend of Lionel Richie and 'Uptown Funk' by Bruno Mars would not go well together?) The party ended about half an hour after we arrived so things got back to normal quickly enough.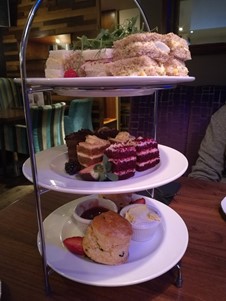 So... onto the food. The afternoon tea was served on pretty floral china plates and we had the choice of a pot of tea or coffee. You could have a speciality coffee instead for an extra charge. When the hot drinks arrived the server realised that there was no milk on the table and speedily rectified this. We opted for a glass of prosecco too (hey, it's Valentine's Day!) and this came out with the food.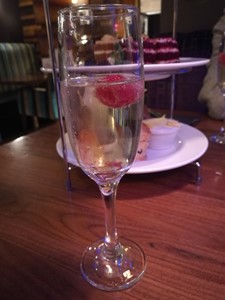 The sandwiches were nice but were quite small. There were two squares of each type of sandwich each. You got tuna mayonnaise, ham, and egg mayonnaise, as well as cheese savoury which I got excited about!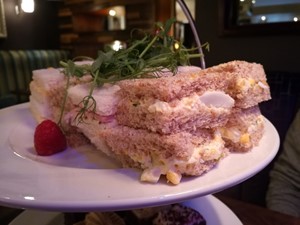 For those who aren't aware of cheese savoury, it's a North-East speciality, a mix of cheddar cheese, carrot, red onion and mayonnaise. It's one of my favourite sandwich fillings and I'll always go for it when it's on offer.
You got the choice of either a cheese or fruit scone as your next course. The scones were large and still warm, which was great, nothing beats a fresh homemade scone! Although the scones were light on fruit, they tasted really good, and there was plenty of clotted cream and jam to plop on top.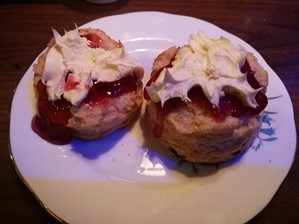 Next, onto the dessert. You got three little slices of cake, one chocolate, one carrot and one red velvet. The red velvet cake and the carrot cake were scrumptious. However, the chocolate one was too rich and I couldn't eat it all (this seems to be a recurring theme on the last three afternoon teas I've been on, I hope I'm not losing my sweet tooth!)
You also got some raspberries, blackberries and chocolate covered strawberries to cut through the sweetness of the cakes which was a nice touch.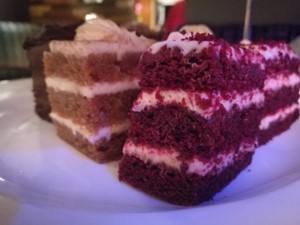 I enjoyed afternoon tea at The Keys, it wasn't perfect, but there were a lot of tasty treats and there's a nice, modern, chilled out vibe to the venue. Plus as it's a bar, you can have a few drinks after you've eaten and even let your hair down in the club afterwards.
Find out more about afternoon tea at The Keys in Yarm
Afternoon tea menu at The Keys
Pot of tea or coffee

Sandwiches

Egg mayonnaise

Ham and horseradish

Tuna mayonnaise

Cheese savory

Scones

Fruit or cheese scone

Clotted cream

Strawberry jam

Sweets

Red velvet cake

Carrot cake

Chocolate cake

Berries, including a chocolate covered strawberry
Scores on the doors for afternoon tea at The Keys
Check out the rest of our 'scores on the doors'. Which afternoon tea is the best?
Ambience

- smart, modern surroundings, but music situation was a bit offputting

3/5
Sandwiches

- the sandwiches were decent but small, I gave the addition of a cheese savoury a extra point!

4/5
Scones

- the fruit scone was huge, warm out of the oven and very tasty

4/5
Sweets

- the red velvet cake and carrot cake were nice and I liked the addition of the fruit to cut through the sweetness

4/5
Value for money

- £15.95 for afternoon tea plus a glass of fizz is good value for money

4/5
>> Afternoon tea at 12 Harland Place
Pin this post!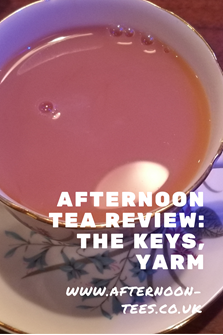 By
Kate
at 14 Feb 2017, 20:50 PM