We're celebrating Mother's Day early with a trip to 12 Harland Place in Norton. Find out what we thought of afternoon tea with an Irish twist to it.
I said that I'd treat my mum to afternoon tea for Mother's Day, so I asked her if there was anywhere she would like to go. After a bit of thought, she said she'd heard good things about 12 Harland Place in Norton so I said I'd get it booked.
I did try to get afternoon tea on Mother's Day weekend booked, but when I tried, they said that they were fully booked all that weekend, so I arranged to book a table the weekend before.
When we got there on Saturday it was still really really busy, so if you rock up without booking, you probably wouldn't get very far. Despite being a little early, they sat us down and brought us a glass of prosecco each while we had a bit of a chat.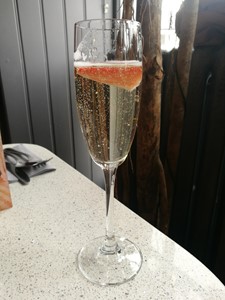 The last time I went to Norton was for a friend's wedding a few years ago, and the High Street has changed a lot since then. There are now a lot of cool places to eat and drink, and a lot of people see it as the new Yarm.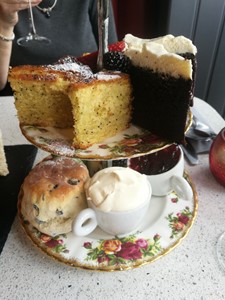 The staff were very friendly and talked us through the whole menu (and all looked cool in their matching denim aprons) and were happy to bring things over, whether it was another pot of tea or butter for the scones.
As well as the afternoon tea staples of tuna and egg mayonnaise, there were some unusual flavours for sandwiches including a chicken BLT and feta cheese and hummus (which I might have to steal as a sandwich filler for my lunchbox at work!)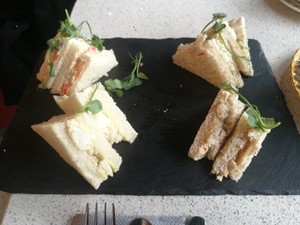 The scones were absolutely massive, and delicious with it, and came with lots of jam and clotted cream.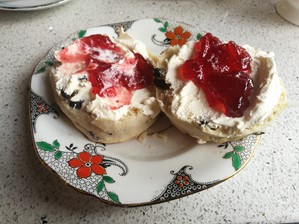 As it was St Patrick's day the day before, the desserts came with an Irish twist. There was a green mint chocolate macaron and a slice of Guinness cake.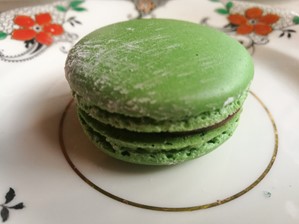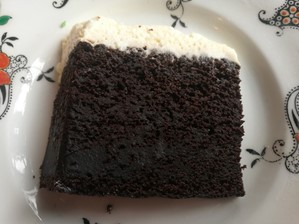 Now, I'm not a fan of stout so I was a bit wary of trying the cake but I'm glad I did. The Guinness added a chocolatey, fudgey taste to the cake and alongside the cream cheese icing, was one of the stars of the show. There was also a slice of lemon and poppy seed cake, a brownie and a little cornflake cake. All the cakes were really good, with the cornflake cake being ten times as good as the one you would have got in school.
In summary, it was a really, really good afternoon tea.
And what did my mum think of it? "Ten out of ten."
Find out more about afternoon tea at 12 Harland Place
Afternoon tea menu at 12 Harland Place
Pot of tea or coffee

Sandwiches

Egg mayonnaise

Feta cheese and hummus

Chicken BLT

Tuna mayonnaise

Scones

Fruit scone

Clotted cream

Strawberry jam

Sweets

Mint chocolate macaron

Guinness cake

Lemon and poppy seed cake

Brownie

Cornflake cake

Berries
Scores on the doors for afternoon tea at 12 Harland Place
Check out the rest of our 'scores on the doors'. Which afternoon tea is the best?
And looking at the scores, it looks like 12 Harland Place has knocked The Cleveland Tontine off the top spot!
Ambience

- Fabulous decor and very attentive staff, couldn't fault it

5/5
Sandwiches

- yummy, very unusual flavours

4/5
Scones

- the scone was absolutely massive!

4/5
Sweets

- you got loads of sweet things for your money, plus lots of quirky things to try

5/5
Value for money

- it's £19.95 for afternoon tea and a glass of prosecco, but you get loads for your money. Well worth a visit

5/5
<< Afternoon Tea at The Keys in Yarm
By
Kate
at 19 Mar 2017, 16:55 PM
Comments
Post a comment