It's been a little while since we last posted on the blog.. our last posts were in 2018!
Sometimes real life gets in the way of keeping up with a blog, as many of you will know all too well. It takes time to plan and write your posts, as well as promote them on social media. Sometimes your enthusiasm wanes and other hobbies seem a lot more appealing!
A lot has happened across the country, as well as the world over the last few months and as I have had a bit more time on my hands, I thought it would be nice to update the Afternoon Tees blog and catch up with friends on social media, some of which I haven't spoken to in a long, long time.
When I was revisiting the old blog posts, it was sad to see how many establishments I had visited in the past had gone out of business, or had changed hands.  A lot of hotels and restaurants are struggling in the current climate and the truth of the matter is that some of them may not survive without our help.
When this is all over, I want to visit as many places as I can for afternoon tea, as well as for other tasty treats. If we all do that, we can help to ensure that the hospitality industry stays alive and that we will not miss our favourite food spots in the future.
Although I can't do any afternoon tea reviews at the moment, I will be posting from home as much as I can. I have been baking a lot during lockdown (apparently searches of 'banana bread' and 'sourdough starters' are higher than they have ever been at the moment!) so I will try and post some photos of what I have been up to.
In the meantime, stay safe and we will all get through this 😊  
<< Afternoon tea at Wynyard Hall
>> Afternoon Tea Break - over to you!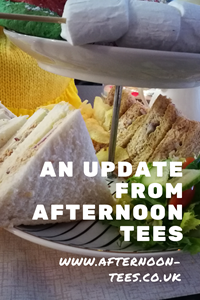 By
Kate
at 29 Apr 2020, 13:48 PM