We're in Darlington to try afternoon tea at the beautiful Majestic Theatre. Is the afternoon tea as good as the surroundings? Come and find out...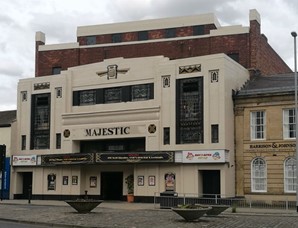 I haven't had a chance to visit Darlington for an afternoon tea yet, so when I saw the Majestic Theatre pop up on Groupon, I snapped up an afternoon tea for two straight away.
The Majestic Theatre on Bondgate has been around for a couple of years now. It used to be a Riley's pool hall, but was refurbished to its former art deco glory and now hosts a variety of music and theatre shows. I went there earlier in the year for a gig and had a really lovely time.
For those who aren't familiar with Groupon, you prepay for a voucher online and then you get in touch with the organiser to book. Simple enough... not so much when it came to ringing the Majestic to book the afternoon tea!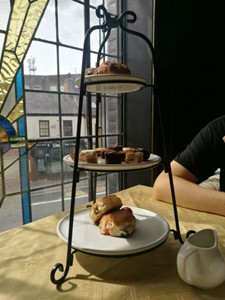 I found it really hard to get in touch with the Majestic to book - I rang and left a message but nobody called me back. In the end I booked the afternoon tea through messenger on their Facebook page.
When I got in touch with them on Facebook they were quick to confirm and genuinely apologetic about the delay, so I'm hoping that the wait was the exception rather than the norm.
We got there a little bit earlier than planned, but we were sat down straight away and asked if we wanted a pot of tea or a coffee. The venue itself is gorgeous, with lots of lovely art deco features. We were sat by a beautiful stained glass window. The music was cool too, they played swing covers of modern pop songs which added to the quirky feel of the building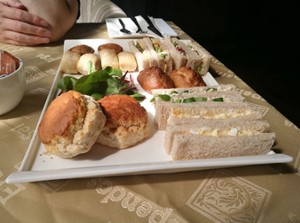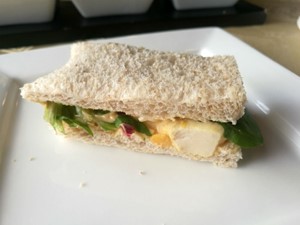 The desserts were served on a tiered plate, and the savoury food came out on a plate. There was a variety of savoury treats, from finger sandwiches (with a double helping of cheese savoury sandwiches) to mini pork pies, sausage rolls and little cornish pasties.
To anyone who asks the question, "do sausage rolls belong in an afternoon tea?" Yes, yes they do.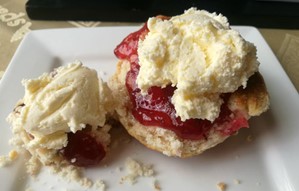 Next were the scones. There was a plain and a fruit scone each, with beautifully presented jam and cream. The scones were nice, if a little crumbly. The only downside was that the cream was whipped rather than clotted. I'm a bit of a traditionalist when it comes to the cream served at afternoon tea!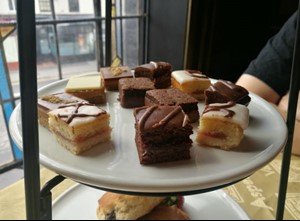 The desserts were definitely not homemade, but I'm a sucker for a Mr Kipling's bakewell slice so I did enjoy them! The desserts included a pain au chocolat, which I've never seen in an afternoon tea before, but was very nice, especially when you dunked it into your cup of tea!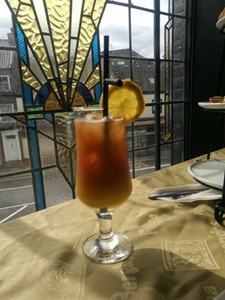 We booked an afternoon tea with what was tantalisingly referred to as a "mystery cocktail". The waiter asked if we wanted our cocktail served alongside the afternoon tea or after, we asked if it could be brought out after the meal. I didn't know what to expect as a cocktail but I was pleasantly surprised! The cocktail looked pretty and was quite strong. It tasted fruity so it might have had some peach schnapps in there.
Although it was a bit of a palaver getting afternoon tea booked at the Majestic Theatre, I was quite pleased with it. There wasn't a lot of homemade goodies, but there were some nice surprises (more afternoon teas should serve Cornish pasties and pork pies) and the cocktail was yummy. Plus the venue is absolutely fantastic and worth checking out.
On Groupon the afternoon tea worked out at about nine pounds per person, which is very good value for money. 
Afternoon tea menu at the Majestic Theatre
Pot of tea or coffee

'Mystery cocktail'

Sandwiches

Cheese savoury

Egg mayonnaise

Coronation chicken

Egg mayonnaise

Cornish pasty

Sausage roll

Pork pie

Scones

Plain scone

Fruit scone

Strawberry jam and whipped cream

Sweets

Bakewell slice

Brownie

Chocolate cake

Millionaire's shortbread

Pain au chocolat
Scores on the doors for afternoon tea at the Majestic Theatre
Check out the rest of our 'scores on the doors'. Which afternoon tea is the best?
Ambience - A gorgeous building, beautifully presented afternoon tea and great service, but I've had to take a point off for difficulty of booking 4/5
Sandwiches - Sandwiches were basic, but pork pies and Cornish pasties were a nice touch 3/5
Scones - Lovely presentation, but the scones came with whipped cream 3/5
Sweets - Cute little morsels, and the pain au chocolat really rounded off the meal 3/5
Value for money - Not the fanciest afternoon tea in the world, but good value for tea, nibbles and a cocktail! 4/5
<< Throwing an afternoon tea - the Afternoon Tees challenge
>> Are you team #jamfirst or #creamfirst?
By
Kate
at 22 Aug 2017, 20:19 PM