Next Post

I planned to celebrate Afternoon Tea week by going out for a luxurious afternoon tea, but circumstances beyond my control meant that I had to cancel.
I still wanted to do something nice for Afternoon Tea week so I decided to throw myself a challenge – to throw my very own afternoon tea!
Although I've been out for afternoon tea many times, I've never thrown one myself so I was looking forward to the challenge!
The plan was:
Throw an afternoon tea for five people
The tea had to include sandwiches, scones and sweet treats
Cook as much stuff from scratch as possible
With all this in mind, I sat down and put together a provisional menu:
Sandwiches: Salmon and cream cheese, tuna mayonnaise and chicken and pesto
Sausage rolls
Cheese and onion tarts
Fruit scones with jam and clotted cream
Chocolate brownies
Chocolate tarts
Cupcakes
Drinks: tea and Pimms and lemonade
After putting together the menu it was a case of popping over to the shops and buying all the food! I wanted to make as much as possible on the day so it was fresh, but I decided to make the brownies and cupcakes the day before, just to save time (and keep me sane!)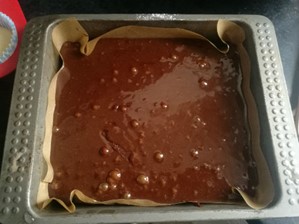 The brownie recipe is one from the Hummingbird Bakery and I've been using it for years, so much so that the page is the cookbook is absolutely filthy! Once the cupcakes and brownies were ready, I left them to cool and stored them in an airtight container, ready for the next day.
I made the cheese and onion tarts in advance – I made a large pie a while ago and made some tarts with the leftover pastry, so they just needed heating in the oven on the day.
The sausage rolls were a bit of a cheat – they were pre-made so all I needed to do was cook them on the day!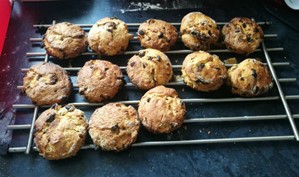 The sandwiches, scones and chocolate tarts were made on the day, and I decorated the cupcakes on the day by making some buttercream. A third of the buttercream was flavoured with vanilla essence, a third with chocolate and the final third with blue dye.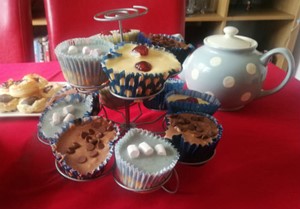 Onto the fun part, decorating! I got a tiered cake stand for Christmas and this was the perfect time to use it. I plated up the food, put an afternoon tea-themed message on the lightbox and it all looked pretty good, if I do say so myself.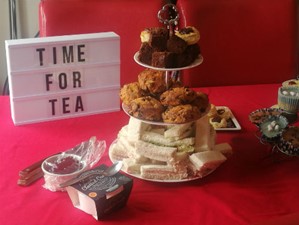 A few things didn't go as planned. The chocolate tarts weren't very nice and the buttercream icing was a bit melty, when the cupcakes were out at room temperature they started to drip a little bit. The cheese and onion tarts went down a treat though, as did the pesto sandwiches and the brownies.
There was lots of food to go round, so much so that there were sandwiches and cakes leftover for tea too!
I really enjoyed making afternoon tea and had a really good time, and would definitely do it again!
Want to throw your own afternoon tea party? Here are some useful pointers!
<< Sophellies cheesecake at Kirkleatham Museum
>> Afternoon tea at the Majestic Theatre
By
Kate
at 15 Aug 2017, 16:55 PM