Next Post

Once lockdown is over I'm looking forward to going out to visit my favourite afternoon tea places! Find out where they are in my latest blog post.
We are currently living in strange times, staying in at home, with all of our favourite bars and restaurants closed for the foreseeable future. 
It's important to stay at home and stay protected, but once everything is safe and it is the right time to reopen... I am going to stuff myself silly with scones, sandwiches and cakes!
Here are five of the best afternoon teas that I have been out for on the blog that I will be going out to enjoy again once they have reopened.
1. 12 Harland Place
I went out for afternoon tea at 12 Harland Place with my mum for Mother's Day. It was so busy we couldn't get booked in for the Mother's Day weekend, and had to settle for the weekend after! And you know what... it was well worth the wait!
I remember all the food being really fresh and tasty, from the sandwiches to the St Patrick's Day themed desserts, and because it was based in Norton, we went out for a few cheeky cocktails afterwards!
12 Harland Place put on a lot of different events through the year from street food to pudding clubs, so it is definitely on the list of places to return to.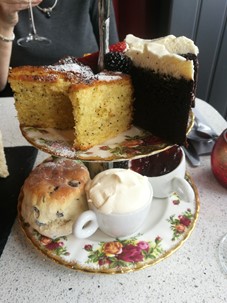 Who to take with you: Your closest mates before you go out for a night on the town!
2. Remember Me Tea Rooms
Remember Me Tea Rooms is based off Stockton High Street. Although the food they serve is simple, their speciality is themed afternoon teas which are amazing to look at (as well as taste)!
We sampled the 'Beauty and the Beast' themed tea and the attention to detail was outstanding - from the yellow and red tea cosy, the Chip teacups as well as a scone that was shaped and coloured like an actual rose! Even to this day I can't quite fathom out how they did it.
I'd love to return soon to try out more of the themed teas!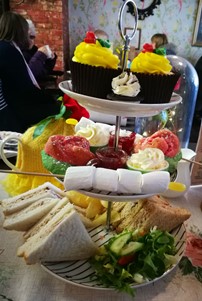 Who to take with you: Your book-obsessed little sister.
3. Acklam Hall
Acklam Hall has the honour of being the first (and currently only) afternoon tea that we have reviewed twice on the blog... and with good reason! We visited once to try the sweet afternoon tea and again to try the savoury afternoon tea.
Both were brilliant - the sweets and cakes were absolutely beautiful to look at (I think my most popular Instagram post is a photo of the desserts), and even more delicious to taste. Service was great and who could say no to eating at a Grade I listed building?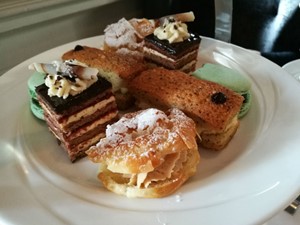 Who to take with you: Your mum for a special thank-you treat.
4. Wynyard Hall
We went to Wynyard Hall for our very first Christmas afternoon tea (hey, their Christmas tee was up, it counts!) and if you have never been there it is definitely worth a visit. It's a massive hotel on huge grounds, with its own little garden and farm shop, and you can even go ice skating there in the winter.
The afternoon tea is absolutely delicious too, with lots of festive sweet treats to enjoy... so much so that we had to take some of them home!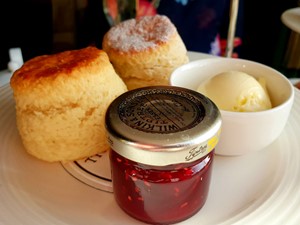 Who to take with you: Your best friend who is visiting the North East for the very first time.
5. Cleveland Tontine
Did you know that The Cleveland Tontine is the very first afternoon tea that we reviewed on the blog? It's been four years since we visited and the Tontine has experienced a lot since then, including a flood a couple of years ago, but it is still there, standing tall on the side of the A19.
I still remember a lot about the afternoon tea we had there and that it was very seasonal and full of fresh flavours, from the tangy passionfruit curd on the scones, to the gorgeous looking lemon posset. I'm keen to go back and see how the menu has changed, and to see if it is still as good as I remember!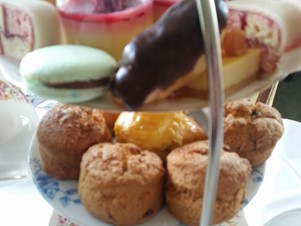 Who to take with you: Your partner for an anniversary getaway.
And as a bonus..
I'd like to go back to Crathorne Hall to try their afternoon tea again. I went a few years ago when I started the blog and in hindsight, I rated it a lot lower than I should have, primarily because of the slow service.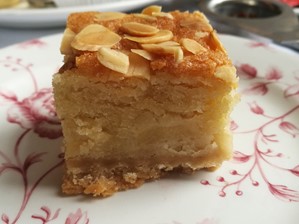 When I posted the review they tweeted me to say that they were sorry for the experience and were striving to improve in the future. I'd like to go back and give them another try.
What restaurants will you be going out to first? Which afternoon tea spots would you recommend that I check out?
<< Afternoon Tea Break - over to you!
>> Almond and Pistachio tea by Truetea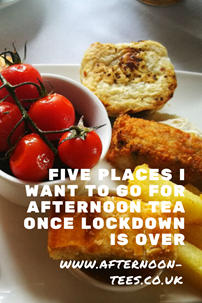 By
Kate
at 9 May 2020, 09:38 AM