We had quite a wait on our hands for an afternoon tea at Chapters Hotel (now known as The Leven) in Stokesley. But was it worth it? 
So far in 2017, I've been trying to do an afternoon tea a month, but I didn't get a chance to in April.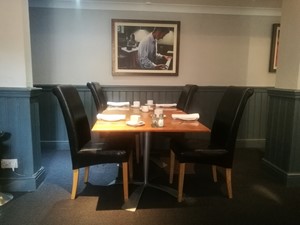 I tried to get booked into Chapters at the start of April but they told me that they didn't have any Saturday availability until the start of May, and they only did a limited amount of afternoon teas a day. The fact that it's so busy... it's got to be a good sign... right?
Anyway, we got there on Saturday afternoon and it was very quiet. There were only us and another table in there. Why did it take so long to be able to get booked in?
We did get there twenty minutes early but they seated us straight away and offered a pot of tea or coffee. Then the afternoon tea came... on a little picnic table!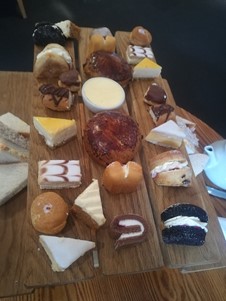 The picnic table was so cute, and elicited a lot of 'oohs' and 'aahs'! There was a lot of food sat on the little table, so it was time to dig in!
The sandwiches were pleasant. There was a cheese savoury which as you might know, is one of my favourites, as well as tuna, egg mayonnaise and ham. Then onto the scone. There was clotted cream and a little jar of Tiptree strawberry jam to plop on top. So far so good.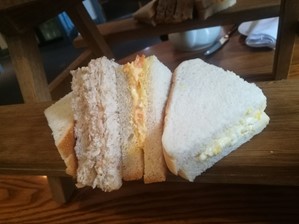 Unfortunately, the scone was one of the worst I've eaten since I started the Afternoon Tees blog. It was weird, it was brown and crispy on top and really dense inside. Not good. Strangely there was another (pre-filled) scone with the desserts and that one was alright.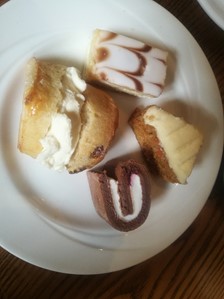 The saving grace of afternoon tea at Chapters was the desserts. They were bite sized, but there were so many of them! There were eclairs, vanilla slices, cheesecake, two profiteroles (one chocolate and one filled with berry cream) and much much more. The best dessert was a little black forest gateau, which was yummy.
Were they all home cooked? Probably not, but they were still good. We couldn't finish them all, and the staff were happy to box up the leftovers.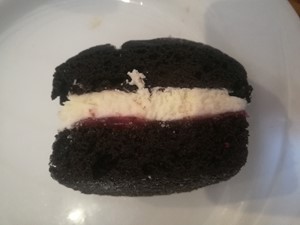 Would I go back for afternoon tea at Chapters? I'm not sure. It was pleasant enough, and the desserts were good, but I don't think it was worth the wait.
Afternoon tea menu at Chapters
Pot of tea or coffee

Sandwiches

Egg mayonnaise

Cheese savoury

Ham

Tuna mayonnaise

Scones

Scone

Clotted cream

Strawberry jam

Sweets

Scone

Black forest gateau

Carrot cake

Eclair

Profiteroles

Swiss roll

Finger bun

Cheesecake

Vanilla slice
Scores on the doors for afternoon tea at Chapters Hotel
Check out the rest of our 'scores on the doors'. Which afternoon tea is the best?
Ambience - Helpful staff and the picnic table serving board was cute, but was so quiet considering we booked so far ahead in advance 3/5
Sandwiches - Traditional but tasty 3/5
Scones - The scone was horrible! 1/5
Sweets

- The variety of desserts was huge, we couldn't finish them all! 

5/5
Value for money - You get a good feed for £12.95 per person, but some aspects of the meal were a lot better than others 3/5
>> Ten things I love about Stokesley
By
Kate
at 8 May 2017, 08:40 AM
Comments
Post a comment