Next Post

I'm a fairly easy-going person and it takes a lot to make me mad.
But mess with my afternoon tea and boy, you'll know about it soon enough! I've put together a list of the five things that can turn an afternoon from great to ghastly!
So… in no particular order…
1. Slow or rushed service
Afternoon tea is meant to be enjoyed at a leisurely pace, it's not like going out for fast food where you can wolf down a burger and chips in the space of twenty minutes. If I'm not out for at least an hour, and I feel like I'm being rushed to finish my food and drink, I know that something has gone terribly wrong.
Conversely, if service is really slow or the people serving just don't seem to care, then it can turn an enjoyable afternoon tea into a really miserable one.
2. Pre-filled scones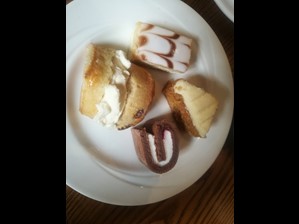 We all have preferences when it comes to scones. Some people like jam on top of the cream. Others like cream on top of the jam. Other people don't like jam and cream at all (they're generally best avoided).
So, it's not great when places pre-fill scones with jam and cream. They don't know what people's preferences are, and as part of the thrill of afternoon tea is piling your own scone high with your choice of toppings, it can take the fun out of it.
While we're on the subject of scones...
3. No clotted cream for scones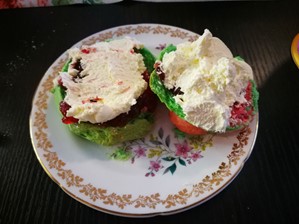 Clotted cream is absolutely delicious, and the only time I get to indulge is when I have it with scones. From the creamy taste and silky texture, to the delicious crust on top, it's a pure treat. Why the creator of Roddas hasn't got a knighthood yet, I don't know.
So, it's a non-no when places offer a bowl of whipped or squirty cream instead of a pot of clotted cream. Someone once told me they were given a can of squirty cream once for their scones once, which is even worse!
4. Curly sandwiches
If a venue chooses to use pre-made cakes, I can live with that. Freshly made ones are better, but my mantra is that I'd prefer tasty ready-made cakes to disgusting ones made on site.
However, I draw the line at pre-made sandwiches. You can tell which ones these are as they have gone curly and slightly crispy at the edges, the salad has gone droopy and the filling doesn't taste as nice as it should.
As sandwiches are the first thing you eat when it comes to afternoon tea, they need to be fresh. First impressions count people!
5. Not enough food!
When I go for afternoon tea, I want lots of food, so much so that I have to sneak some cakes away with me. You know, in case I fancy a snack on the car ride home.
Bonus points if the restaurant box up your treats for you without having to ask (or sticks them in an oversized ice cream box that you have to carry around with you, which has happened before during the course of my reviews.)
So if a place doesn't give you enough food it's a bad sign. You're paying good money for afternoon tea, so the very least you deserve is a good feed.
What do our online friends dislike about afternoon tea?
Our friends at Room Forty told us the two things that they don't like about afternoon tea.
The first? 'We rather dislike cupcakes at an afternoon tea. Keep it traditional!'
The second - 'the horrid pink "plastic" ham is another no no!'
Katy B said the five things she dislikes about afternoon tea are: being served tea before champagne, afternoon tea for two and only being served one of each item, 'themed teas' where the theme isn't anywhere apart from the crockery, dry food and storebought cakes... "bake it for the love of cake!"
What are your pet hates when it comes to afternoon tea? Let me know in the comments, on Facebook or on Twitter!
<< Afternoon Tees goes to Ormesby Hall
>> Afternoon Tees goes to Saltburn
Pin this post!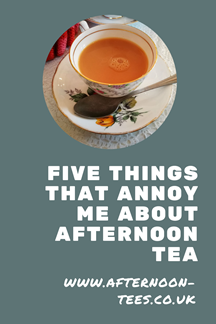 By
Kate
at 12 Sep 2017, 20:12 PM