Next Post

We're finding out how Middlesbrough and Japan are linked by visiting the Dorman Museum for its latest exhibition - 'Tokyo to the Tees'.
I had a free Saturday and I fancied a bit of culture. I'd seen the Dorman Museum's latest exhibition promoted on Twitter so I decided to go along and check it out.
The last time I'd been to the Dorman Museum was with school many, many, many years ago. I remember that there was a room with lots of bird eggs and displays of stuffed birds, but that's all I could recall.
When I woke up that morning it was absolutely peeing it down - it's the middle of June, it's meant to be nice! The rain did clear up though and before I knew it, I was on my way to town.
I decided to walk from the town centre to the museum. I'd honestly forgotten how far out the museum was!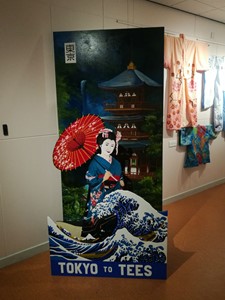 The museum is free, but you had to pay to see the 'Tokyo to the Tees' exhibition. It was only £2 for adults and £1 for children/concessions, which is still great value for money.
When I started walking around the museum, the exhibits started slowly coming back to me. There were exhibits about Middlesbrough Football Club, the famous people and businesses that came from Middlesbrough and more importantly, the T.H Nelson Bird Gallery!
There were a lot of interesting facts. For example, did you know that 'Cargo Fleet' comes from the Scandinavian for 'Kaldecotes', or 'cold huts'?
Also, Lichtenstein did not give women the vote until 1984! How crazy is that?!
After checking out the free bit of the Dorman museum it was time to visit 'Tokyo to the Tees'. This exhibition celebrated the links between Middlesbrough and Japan in the 19th and 20th century.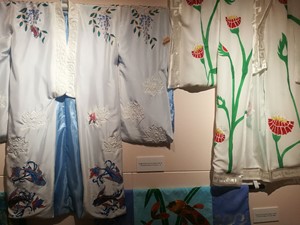 The first thing I saw was some beautiful kimonos. The museum assistant pointed out that they had been painted by students from Cleveland College of Art and Design (now the Northern School of Art).
The exhibition was in three key parts. The first part was about art. This year was the 140th anniversary of Christopher Dresser visiting Japan.
Dresser was an influential designer who was based in Middlesbrough and visited Japan to find out how he could apply the design aesthetics there to his own work. When he came back he launched Linthorpe Art Pottery and used what he had learned to not only create pottery, but also furniture. 
There was an interesting connection between Dresser and Sir Henry Wellcome, who founded the Wellcome pharmaceutical company (and whose museum I visited a few months ago). Dresser coordinated the design of Wellcome's headquarters in London and when he died in 1904, Wellcome bought a lot of his Japanese books at auction.
The second part was about the obsession with everything Japanese, which culminated in the 1890s. Japanese performers frequently visited the town and Japanese vases, bowls and furniture were available for sale.
The final part was about the Japanese community in Middlesbrough. In the 1920s there were about 250 men who had travelled by ship from Japan to Middlesbrough in order to make better lives for themselves. Middlesbrough had a Japanese Consulate that made it easy for the men to get jobs when they arrived. The men married local women and became citizens, with many of them fighting for Britain during WWI and WWII. Their descendants still live in the town today.
After the exhibition it was lunchtime. Although I was tempted by Dresser's tea room (named after Christopher Dresser), a little cafe inside the museum (that apparently does a great afternoon tea!) I thought some Japanese grub might be in order. I'd heard good things about the recently opened Umi's so I walked back into town to try it out.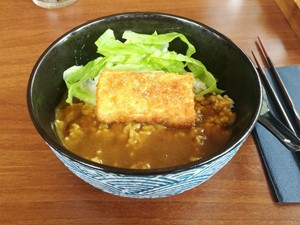 The menu was small and it was quiet but the food was really good. I had tofu katsu curry which was delicious. A bit more curry sauce would have been nice, but I like my katsu curry drowning in sauce so I think it was just me being picky.
After eating I headed on back to the car but saw lanterns and heard music. I went to investigate and was delighted to find out it was the Boro Mela!
The Mela multi-cultural festival takes place every year. The last time I went it was in Albert Park, but it is now in Centre Square, next to MIMA. I didn't stay for too long but it was lovely to see everyone chilling out listening to music and eating street food.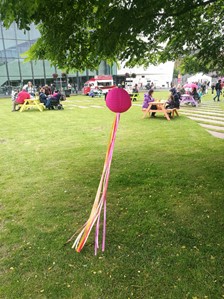 I had a really nice morning and would definitely recommend a trip to the 'From Tokyo to the Tees' exhibition, which is on until the end of December.
<< Hartburn Village Women's Institute celebrates a birthday
>> Scone alone: is it okay to go to afternoon tea by yourself?
By
Kate
at 18 Jul 2017, 20:41 PM