An Italian-style afternoon tea? Why not! Find out what the afternoon tea is like at Al Forno, the North-East chain of restaurants.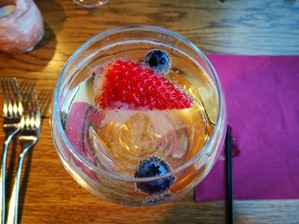 The collection of shops at Sandgate in Ingleby Barwick opened last summer and have been extremely popular with locals. Whether you need a pint of milk or fancy a pint of beer, there's something for everyone.
Residents got extremely excited when local Italian chain Al Forno announced that it was opening its third restaurant in Ingleby Barwick. With branches already in Middlesbrough and Darlington, Al Forno has a reputation for tasty pizza, pasta and steaks (not forgetting parmos!) at great prices.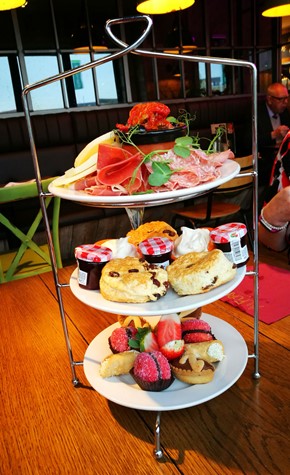 There was one thing that the Ingleby Barwick Al Forno was lacking until very recently. Afternoon tea was available at their Middlesbrough and Darlington branches, but not Ingleby Barwick. As soon as it was though, guess who was off to book a table?
Afternoon tea at Al Forno comes with an 'Italian twist'. If you're looking for dainty sandwiches you're not going to get them here!
After we sat down, the food came out on a traditional tiered cake stand. So far so good. And then out came the bruschetta! I love bruschetta and normally order it as a starter when I go out to eat so this was a fantastic twist on the traditional sandwiches. We all got a tomato and a goats cheese bruschetta each, and they were both delicious.
After the bruschetta, we moved on to the antipasti - olives, sundried tomatoes, cheese and lots (and lots!) of different hams. The food was yummy but there was a lot of it - even after we dug into the cheese, olives and had some of the ham there was still a lot left!
o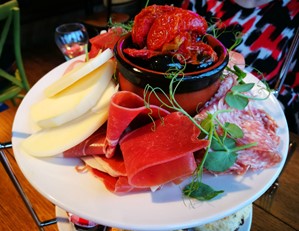 Next - scones! The scones were homemade and came with a little pot of Bonne Maman jam and whipped cream. The scones were very nice and full of plump fruit and were a nice sweet treat after all the savoury goodies.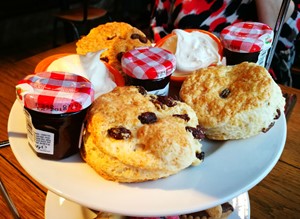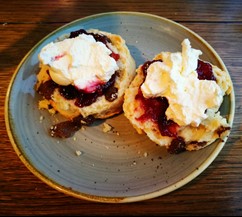 Finally onto the sweets, which were a collection of Italian pastries. Although they were nice, I must admit I preferred the savoury course and scones.
There was a little cannoli filled with a nutty cream, and although some of us really enjoyed it, others weren't so keen. Then there was a little pastry filled with chocolate ganache, although it was small it was really rich.
My favourite was the little cake that looked like a macaron at first glance but was really a sponge. Hey... I watch too many Heston Blumenthal shows... I'm a big fan of things that are really other things! The waitress said that the cake was a result of an experiment, they were trying to make something else but they ended up making the cake instead and liked the result so much that they put it on the menu!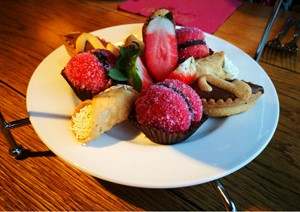 Afternoon tea at Al Forno is tremendous value for money for the amount of food that you get. We paid £11 each for afternoon tea and a glass of fizz, although you can get the standard version for £8.50. Not only is there a lot of food but it's tasty too - I loved the bruschetta and the antipasti was a fab Italian twist on a classic afternoon tea.
As the afternoon tea is a fairly new development, it sounds like it is evolving all the time; the waitress was really keen to hear our feedback about it. I'll definitely be returning to see what's new in the future.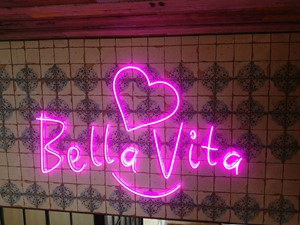 Afternoon tea menu at Al Forno
Sandwiches

Goats cheese bruschetta

Tomato bruschetta

Olives, cheese, sundried tomatoes, ham

Scones

Fruit scone

Jam, butter and whipped cream

A selection of Italian cakes and strawberries
Scores on the doors for afternoon tea at Al Forno
Check out the rest of our 'scores on the doors'. Which afternoon tea is the best?
Ambience - A pleasant, non-traditional environment for an afternoon tea  4/5
Sandwiches - The bruschetta were absolutely delicious - more afternoon teas should have them! 5/5
Scones - The scones were nice, but did come with whipped rather than clotted cream  4/5
Sweets - The desserts were nice, but not my favourite part of the meal  3/5
Value for money - £11 for fizz and loads of tasty Italian treats? Yes please! 5/5
<< Afternoon Tees goes to Chadwicks Inn
>> Afternoon tea break: A Brummie Home and Abroad
By
Kate
at 17 Jan 2018, 20:30 PM