If you've never been to Stokesley, you need to go. It's a little market town in North Yorkshire.
A little while ago, I went for afternoon tea in Chapters Hotel, which is on Stokesley High Street.
I thought I'd celebrate Stokesley by looking at ten awesome things about it. If you're a regular visitor to Stokesley, let me know what you love most about this little market town in the comments or on social media.
1 The scenery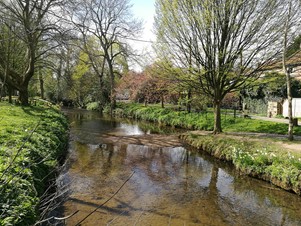 Even if you don't have plans, it's lovely just to sit by the River Leven and watch the ducks swimming in the river.
2 The fancy charity shops
You'll probably be aware that I'm a big fan of vintage clothes shopping, and there are some great charity shop bargains to be had in the town. The best hint I got about charity shops was to always go to ones in posh areas, and the ones in Stokesley are very posh indeed!
The best bargains I got in Stokesley were a knitted Mantaray top, a River Island top which goes so well with jeans and a Jigsaw dress that was a tenner!
3 Fish and chips
When I was little and my family used to travel home after visiting family in the South, we'd always stop off at the Stokesley fish and chip stop to get tea.
Even after all those years, this shop probably serves the nicest fish and chips in the area. We queued for about forty-five minutes on a bank holiday Monday to get food once… totally worth it!
4 The coffee shops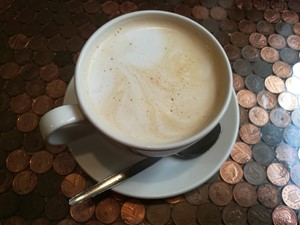 There are lots of lovely places to get a tea or coffee on Stokesley High Street. Two of my favourites are the Mockingbird Deli (which also has a branch in Yarm) and Lincolns Cafe (which has now closed), which does delicious quesadillas.
5 Stokesley Fair
All the fun of the fair comes to Stokesley for a week in September. I remember going here as a kid and enjoying all of the rides. I haven't been for a little while but hey, September is only four months away!
6 The old mill wheel
Stokesley has a lot of history and a surprising amount of Grade II listed buildings. The mill wheel (located between the Coop supermarket and Stokesley showground) represents the location of a mill which was recorded in the Domesday book.
7 Roseberry Topping
Technically Roseberry Topping isn't in Stokesley, but you can see the outline of the hills from there. It's a 320m high hill with spectacular views of Cleveland. There's a lovely pub at the bottom of the hill too.
8 The food market
Once a month Stokesley holds a food market. Not only can you buy fish, meat and vegetables, but scotch eggs, cupcakes and pies. Lots of lovely things to see and smell, and if you ask nicely you might get a freebie too!
9 Tour de Yorkshire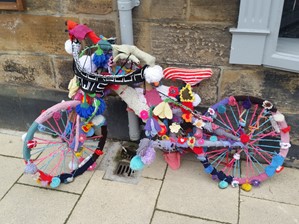 The Tour de Yorkshire is an annual cycling race held across various parts of Yorkshire. In 2016 the race went through Stokesley High Street for the very first time. There was lots going on to celebrate, from a day of live music and entertainment to blue and yellow bicycles on the side of the road.
10 All the pubs
There are loads of great pubs in Stokesley and the surrounding area. One of my favourite places to go is Great Broughton, which is only a five-minute drive from Stokesley and has three great country pubs to choose from; the Wainstones, the Jet Miners Inn and the Bay Horse. 
<< Afternoon tea at Chapters Hotel
>> Afternoon tea at Patisserie Valerie
By
Kate
at 16 May 2017, 21:11 PM