We went along to the Brierley at Acklam Hall to try a 'Lady Anne's tea'. Find out what we thought of the different types of tea on offer and the beautiful looking cakes.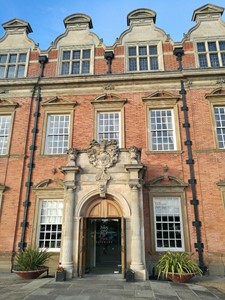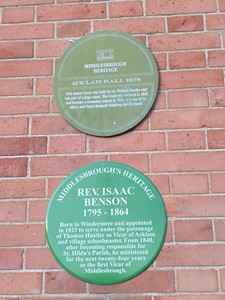 Did you know Acklam Hall is the only Grade I listed building in Middlesbrough? 
The building certainly has a lot of history, being the home of the Hustler family for 200 years and more recently being used for education, being both a school and part of Middlesbrough College. After an extensive restoration, Acklam Hall opened as a restaurant and venue in late 2016.
Now, I've wanted to try an afternoon tea at Acklam Hall since it opened, having heard great things from friends and fellow bloggers. I owed my mum and sister an afternoon tea for their birthdays so I suggested going along.
Acklam Hall currently does two afternoon teas - the traditional 'Lady Anne' and the savoury 'Sir William' which offers treats like pork pies, sausage rolls and cheese and mustard scones. We went for the 'Lady Anne' on this occasion. They also do a mini afternoon tea for little ones which includes milkshakes and doughnuts.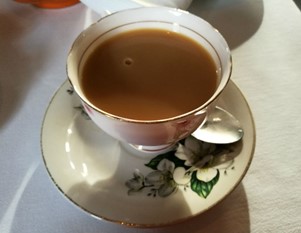 We got there and were seated in The Brierley, Acklam Hall's restaurant. It was lovely! Bright colours, plush chairs and swing music in the background. The staff were very attentive, offering to take our coats and showing us a tea menu. Now, it's been a long long time since I've been to an afternoon tea that offers different types of tea with the meal - it's usually 'English breakfast' or nothing!
Although I was tempted by the 'strawberries and cream' tea, I went with the special 'afternoon tea' blend. It was a loose leaf tea, served in individual brightly coloured teapots with lovely chintzy teacups. So far, so good!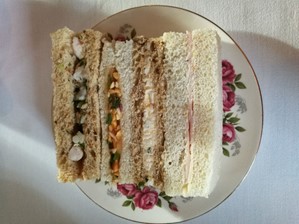 The sandwiches were traditional afternoon tea flavours; prawns in a Marie Rose sauce, ham and mustard, cheese and tomato and egg mayonnaise. Not my favourite flavours, but the sandwiches tasted fresh and were decently filled.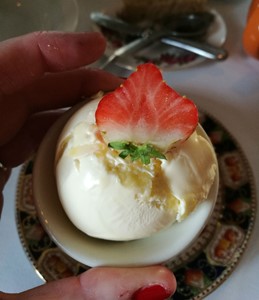 Can you guess what this is? I thought this was a pretty dessert but it was clotted cream! Top marks for presentation.
Afternoon tea at Acklam Hall came with two flavours of scone; fruit and cheese. Both were yummy and warm from the oven.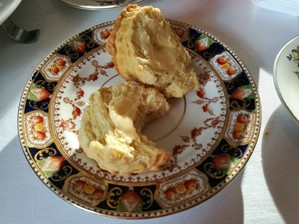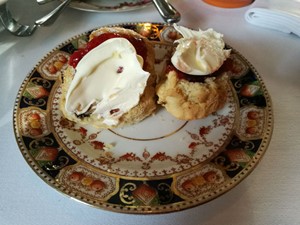 After demolishing a delicious elderflower and blackberry pannacotta it was time to move onto the cakes! There were some unusual types that I had never seen before, but the staff were more than happy to run through what each of the cakes were and what they were filled with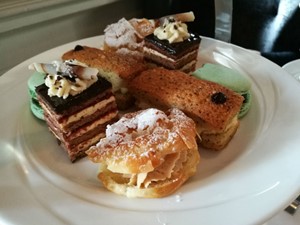 The pistachio macaron was huge and stuffed with dark chocolate ganache. The poppy seed financier was tasty but my favourite desserts by a long shot were the Opera cake (I've never had an Opera cake before today, I've only seen them on the Great British Bake Off) with its shiny chocolate icing and the Paris Brest, which was a choux pastry doughnut - kind of like a profiterole but instead of vanilla cream it was filled with praline cream that tasted a lot like Ferrero Rocher.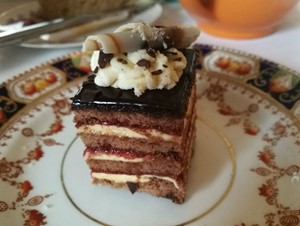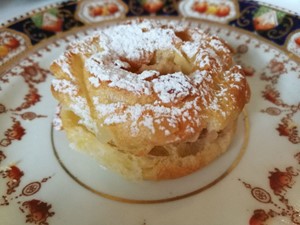 Afternoon Tea at Acklam Hall was lovely - fantastic surroundings, attentive staff and good food. I'd definitely recommend it, and it's probably the poshest afternoon tea I've had all year!
Afternoon tea menu at Acklam Hall
Selection of loose leaf tea and coffee

Sandwiches

Prawn and cucumber

Egg mayonnaise

Ham and mustard

Cheese and tomato

Scones

Fruit scone

Cheese scone

Strawberry jam, butter and clotted cream

Sweets

Black Forest Opera Cake
Poppy Seed Financier, Vanilla Crème Pâtissière
Elderflower PannaCotta, Blackberry Gel
Pistachio Macaron, Chocolate Ganache
Paris-Brest, Praline Cream
Scores on the doors for afternoon tea at Acklam Hall
Check out the rest of our 'scores on the doors'. Which afternoon tea is the best?
Ambience - Beautiful venue and very attentive staff 5/5
Sandwiches - Basic flavours, but very tasty 4/5
Scones - Lovely to get a cheese scone and a fruit scone 4/5
Sweets - Delicious, unique desserts that were a work of art 5/5
Value for money - Afternoon tea at Acklam Hall costs £19 but you get a lot of delicious food for your money 5/5
It looks like Acklam Hall has drawn for first place with 12 Harland Place! Woohoo!
<< How to host an afternoon tea
>> Afternoon Tees makes a Christmas cake
By
Kate
at 20 Nov 2017, 20:33 PM