Nothing beats going to Saltburn and having ice cream and fish and chips on a lovely sunny day. Join us as we take a trip to the coast.
We try and go to Saltburn at least once a year in the summer to visit the beach and have fish and chips, and we visited a few weeks ago to make the most of the nice weather. We normally park at the top of the cliff and walk down, but as a special treat we took the train... and it was very busy indeed!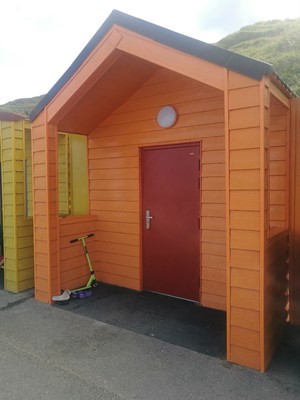 There was a fancy new addition to the seafront in the form of some brightly coloured beach houses, and some families had already taken the opportunity to have a sit and a chill out in them.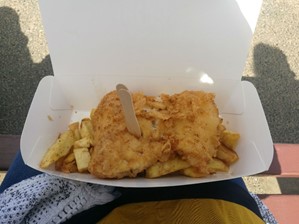 Now the main reason we go to Saltburn - fish and chips! There are two really good fish and chip places on the seafront, so expect to queue if you go at lunchtime! You can eat in at the restaurant at one of them but nothing beats eating fish and chips out of a tray in front of the beach while you watch people surfing.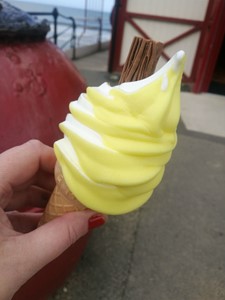 After the fish and chips we had a walk on the pier and watched people fishing and then took a detour through the arcade. It was then time for ice cream! There are a lot of different ice cream shops and ice cream flavours available but when you're on the coast in the North East you have to get a lemon top! These seem to be a very regional thing and consist of vanilla ice cream and tangy lemon sorbet, all mixed together.
I decided to push the boat out and get a flake in mine!
Interestingly, if you go to East Anglia and visit the coastal towns like Cromer or Sheringham you can get a strawberry variant on the lemon top!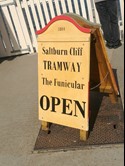 The cliff lift always seems to be closed when we visit Saltburn but it was open today! The lift is over 130 years old and is the oldest working lift of its type in the world. It's definitely worth going on at least once, especially on the upward journey up the steep hill!
<< Five things that annoy me about afternoon tea
>> Making pastry for the very first time
By
Kate
at 19 Sep 2017, 19:49 PM