In my first review of 2017, I visit the Ingleby Barwick Bistro for afternoon tea where there are hearty sandwiches and pots of purple coleslaw on offer.
After what had been a lousy week, I was glad to get out of the house for the first afternoon tea review of 2017. I've been to the Ingleby Barwick Bistro for food and drinks a few times in the past, but never for afternoon tea, so was excited to see what was on offer.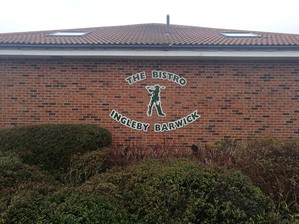 When I rang up to book, you had the choice of  'traditional' afternoon tea, a savoury afternoon tea with a little portion of fish and chips (how cool does that sound?!) and a ploughman's afternoon tea with a pork pie and cheese and biscuits.
For the sake of simplicity, I went for the traditional afternoon tea. All the teas were £20 for two people which is decent value for money, and you could add a glass of prosecco if you wanted to.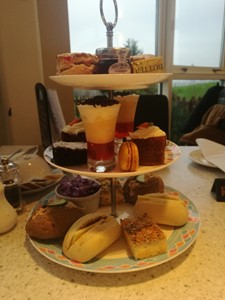 Now, if your idea of afternoon tea is chintzy cups and saucers, the finest blends of tea leaves and luxurious surroundings... The Ingleby Barwick Bistro is probably not for you.
It's a clean and simple place, although there are lots of cool things on the walls if you like that kind of thing. Service was speedy even though there were a lot of people eating, the food and a pot of tea were out on the table within five minutes of sitting down.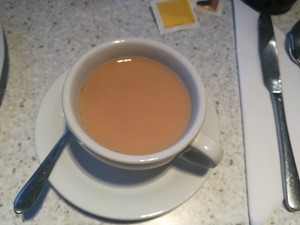 The best thing about this afternoon tea by a wide margin were the savoury treats on offer. If you like finger sandwiches with the crusts cut off, you would probably be in for a bit of a shock, as you got mini bread rolls, but the sandwiches were really good and flavoursome. The tuna and mayonnaise roll looked a bit like a jacket potato at first glance mind you!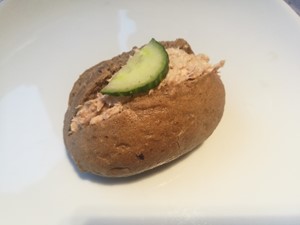 As well as the sandwiches you got a hearty slice of homemade quiche and a pot of purple coleslaw which was delicious. I could have easily licked my plate clean.
Unfortunately, the sweet treats weren't as good. There was a cherry scone, but it was very small and quite crumbly, and not as chunky looking as it looked in the photo. Mine cut okay but my mum's scone ended up breaking into bits. It tasted nice though.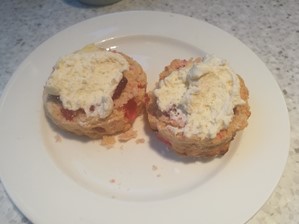 The desserts were a mixed bag. The mini macarons weren't very exciting, and the brownie was really sticky and dense. I could only eat about a third of it and gave up, and this is coming from someone who can eat a whole plate of brownies in one go. (I seem to be having a major issue with too chocolatey desserts!)
However, the mini trifle was good and the carrot cake was delicious and moist.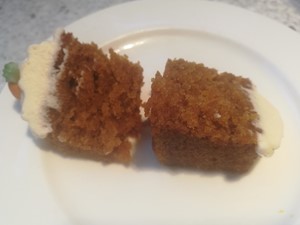 In conclusion, afternoon tea at the Ingleby Barwick Bistro was pleasant and the savoury aspects of the meal were really good. I'd probably look at going for the savoury or ploughman's afternoon tea next time. Mini fish and chips, what's not to like about that?
Update: You can now get a parmo afternoon tea at the Ingleby Barwick Bistro!
Afternoon tea menu at Ingleby Barwick Bistro
Pot of tea
Sandwiches

Tuna and mayonnaise sandwich
Cheese and chutney sandwich
Homemade quiche
Coleslaw

Scones

Cherry scone
Clotted cream
Tiptree strawberry jam

Sweets

Chocolate brownie
Trifle
Mini macarons
Carrot cake
Scores on the doors for afternoon tea at Ingleby Barwick Bistro
Check out the rest of our 'scores on the doors'. Which afternoon tea is the best?
Ambience - very simple surroundings, but service was speedy 3/5
Sandwiches - a really tasty range of savoury treats 5/5
Scones - the cherry scone was nice, but small and crumbly 3/5
Sweets - a mixed bag - some of the desserts were really yummy, others not so much 3/5
Value for money - a decent price for afternoon tea. I'd quite like to try the other two savoury teas on offer 4/5
<< Afternoon tea at Crathorne Hall
Pin this post!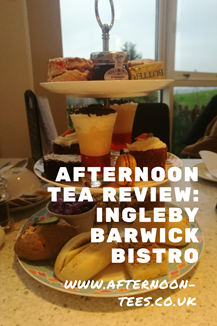 By
Kate
at 24 Jan 2017, 19:33 PM