Have you ever had a savoury, or 'Gentleman's' afternoon tea? We're going back to Acklam Hall to give one a try in our latest blog!
Did you know that as well as the standard afternoon tea replete with mouth-watering scones, perfect pastries and amazing cakes, some venues also offer afternoon teas for those who may not have a sweet tooth?
Savoury afternoon teas, sometimes know as 'Gentleman's' afternoon tea offer a wide range of savoury goodies for people who always pick a starter as opposed to a dessert when they go out to eat. As we hadn't tried one on the blog yet, we thought it was a good time to give one a try!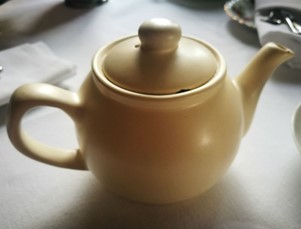 We did some research and asked our Twitter friends in the North East if they know of good places to go, and two venues were recommended to us, both of which we have already visited; Acklam Hall and Wynyard Hall. After looking at the menus online, and going on the fact that we had an absolutely delicious afternoon tea experience when we went there last November, we decided to take a trip back to Acklam Hall.
So Acklam Hall has the honour of being the first venue on the blog to have two afternoon tea reviews!
The 'Sir William' afternoon tea costs £23 and like the traditional afternoon tea, it changes seasonally. We popped along on Sunday and after a little bit of a palaver where were ended up sat at the wrong table (which was put right by the very kind waitress), we sat down to a wide range of teas and coffees (try the classic loose leaf tea blend, it's very strong and malty!) and after a short while, the savoury afternoon tea came out.
No fancy tiered trays here!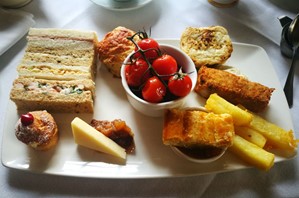 Now the plate looked very exciting and was full of lots of lovely bright colours. We decided to start with the sandwiches, which were the same ones that we had with the afternoon tea when we visited last November, simple flavours but still very nice and decently filled.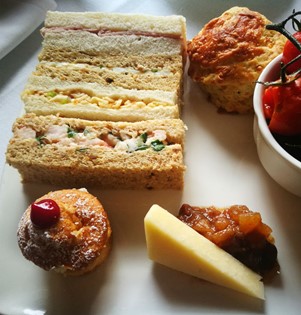 We then moved onto the ham hock croquette. Now, my experience of croquettes are lots of mashed potato and very little meat, but this one was full of tender, flaky meat. It was delicious, especially with the crispy fried chunky chips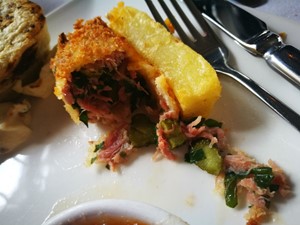 Next on the list to try were the cheese and onion roll (which was tasty but very small) and the mini steak pie that was full of soft beef encased in flaky pastry and came with spicy horseradish and cooling creme fraiche.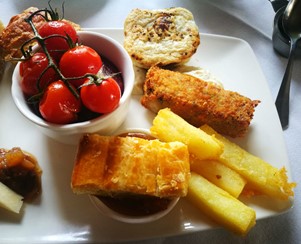 There were lots of other nibbly things as well including a piece of cheese with apple chutney and cherry tomatoes and beetroot. There didn't look like there was a lot of food at first glance, but we ended up getting full very quickly!
We saved the scone and mini Victoria sponge for last. The cheese scone was very light and packed full of cheese (if you're not a massive cheese lover you may have found it a bit overpowering) and given that the sweet treats at Acklam Hall were the star of the show last time, we were not disappointed by the little cake, which was absolutely delicious.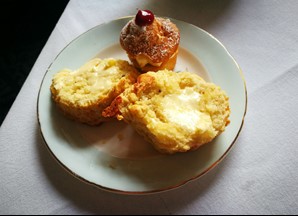 So, would we pick the savoury afternoon tea over the traditional afternoon tea of scones and cakes? Not every time, but it was certainly nice to give it a go and there were a lot of delicious things in Acklam Hall's savoury afternoon tea (our favourites were the ham hock croquette and the mini steak pie.)
As this was a savoury afternoon tea we decided not to score it as it did not match up against the categories we rank against. However we would still recommend Acklam Hall for both sweet and savoury afternoon teas!
Have you ever had a savoury afternoon tea? If so, where did you go and what was your favourite part of it?
'Sir William' savoury afternoon tea at Acklam Hall
Selection of tea and coffee
 Selection of sandwiches

Prawn cocktail
Ham and mustard
Egg mayonnaise
Cheese and tomato chutney

Cheese and onion roll with tomato relish
Slice of cheese with apple chutney
Steak pie
Ham hock croquette
Pickled beetroot and cherry tomatoes
Cheese scone
Chunky chips
Mini Victoria sponge
Although we have decide to not give a score for this afternoon tea, why not check out the rest of our 'scores on the doors?
<< Afternoon Tea Break: Pinkiebag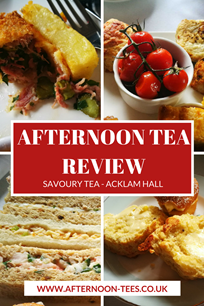 By
Kate
at 15 Apr 2018, 19:40 PM
Comments
Post a comment