In the first of a new series, we review different flavours and brands of tea! First up is Jollybrew and their loose leaf Rosie Lee tea.
It's awesome going out for afternoon tea, and it's easier than ever to recreate the experience at home. There are a fabulous range of flavoured teas and coffees these days and with this in mind, we decided to review some of them on our blog in.... (drum roll please!)... The Afternoon Teescup!
Jollybrew is a British company that offer a range of over fifty loose leaf teas, all of which are ethically sourced. They have a lot of fabulous reviews online and we jumped at the chance to receive some samples to review.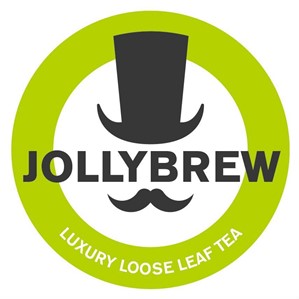 We received three different packs of loose leaf teas in the post, which we'll review in future blogs. As well as the loose leaf teas, Jollybrew very kindly provided some empty tea bags to pop the loose tea into (which came in handy as we've misplaced the old tea strainer!)
So the tea we have decided to review first is Jollybrew's 'Rosie Lee' tea - described on the package as a mix of black tea, rose petals and blackberries. The package also had details about the level of caffeine in the tea and the best way to brew and drink it.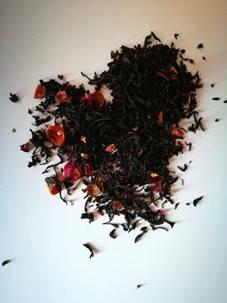 The tea itself looked absolutely beautiful, black tea leaves spotted with little pink and red rose petals, and it smelt very much like roses and Turkish Delight. This worried us a little as we're not Turkish Delight fans, but after brewing the tea for four minutes, the smell had mellowed and was very pleasant indeed.
After adding a splash of milk, it was time to drink! Excuse the pyjamas.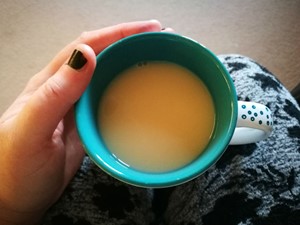 This tea was yummy - we're fans of the old traditional English breakfast and the additional elements of the blackberry leaves and rose petals added an extra dimension of sweetness. Definitely one we'd have again and again, and serve to guests if we wanted to be a bit fancy!
Disclaimer: We received a free product from Jollybrew in exchange for an honest review.
Have you tried Jollybrew's Rosie Lee tea? Let us know your thoughts in the comments below!
<< Afternoon Tea at Remember Me Tearooms
>> The Afternoon Teescup: Jollybrew Proper Peppermint Tea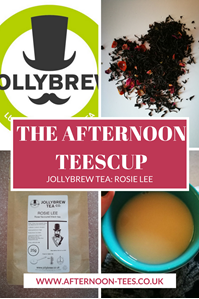 By
Kate
at 26 Mar 2018, 13:20 PM