Afternoon tea isn't something that is restricted to big country hotels and stately homes. Find out what happened when we visited the Olde Young Tea House in Middlesbrough town centre.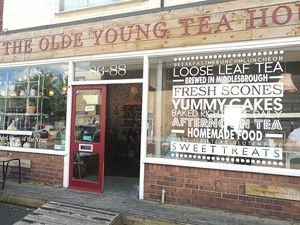 I don't get chance to go out in Middlesbrough that often, perhaps once a month, and I've walked past the Olde Young Tea House several times but have never gone in. This time we decided to pop in and give the afternoon tea a try.
It was busy when we went in but we'd booked a table in advance. We were shown to our table, given a chance to peruse the menu and then popped up to the front to place our order.
The decor is very retro with mismatched plates and teapots, as well as lots of lampshades that hung from the ceiling. I loved it!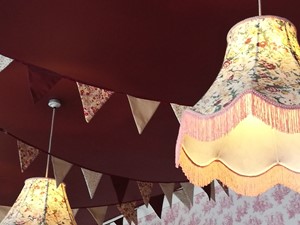 Afternoon tea was £10 per person (bargain!) plus there was the option of a vegan or gluten-free afternoon tea for an additional supplement.
So many choices!
The nice thing about afternoon tea at the Olde Young Tea House is the variety. You get to choose your sandwich, your scone and cake. Plus they have a massive (and I mean massive) selection of teas to pick from. I played it safe this time around and went for the English breakfast, but was also tempted by the Scottish breakfast tea (apparently it's stronger than its English counterpart).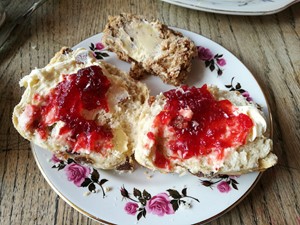 Sandwich fillings included: tuna & red onion, mozzarella & pesto and hummus & grilled pepper. The scones on offer included plain, fruit, cherry and date and walnut. As for the cakes… Where to begin! We opted for a jaffa cake cupcake and a vegan blueberry cupcake that we split and shared.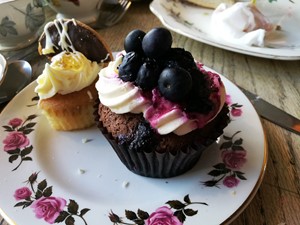 The jaffa cake cupcake was nice, very orangey, but the real treat was the vegan cupcake. It was moist and had a lovely 'buttercream' on top as well as lots of juicy blueberries. If you are a vegan and looking for afternoon tea, you'll be spoilt for choice at the Olde Young Teahouse.
After we ate our cakes and slurped down our tea, we decided to head over to Bedford Street and Baker Street (which are just round the corner from the Olde Young Teahouse) for a few cocktails. It's got to be done on a Saturday right?!
Afternoon tea menu at the Olde Young Teahouse 
A choice of sandwich on white bread
Flavours include ham and mustard, pepper and hummus and beef and horseradish
Scone of your choice with butter, jam and clotted cream
Cake of your choice
Scores on the doors for afternoon tea at the Olde Young Teahouse
Check out the rest of our 'scores on the doors'. Which afternoon tea is the best?
Ambience - the decor is adorable, and although you have to order at the counter, service is friendly and speedy 4/5
Sandwiches - a massive variety of sandwiches, although you only get to select one flavour. My mozzarella and pesto sandwich was okay, but I'm told the tuna and red onion sandwiches were delicious 3/5
Scones - lots of flavours, from fruit, to date and walnut, to cherry and almond. The scones were big and chunky, and served with strawberry jam and clotted cream 4/5
Sweets - the cakes are yummy, freshly made on the premises and there is so much variety. The Olde Young Teahouse's Instagram is pure cake food-porn! 4/5
Value for money - you can't go wrong for ten quid! 5/5 
<< Afternoon tea at the Cleveland Tontine
>>Afternoon tea (sort of) at the Festival of Thrift
By
Kate
at 18 Oct 2016, 20:19 PM
Comments
Post a comment