Boo! We attended a sneak preview of the Scream Factory at Kirkleatham. Find out what we thought of all the spookiness...
We do love a good night out and we were delighted when we were invited to the launch of the Scream Factory in Kirkleatham.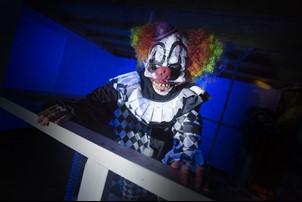 Dubbed as the North East's largest Halloween event, the Scream Factory is based in Kirkleatham (where Kirkleatham Museum and the Festival of Thrift are based). We parked up at the museum and wandered over where all the bloggers were waiting to enjoy all the spooky fun!
Although the event didn't open straight away, there were some scary characters hanging around the venue to get everyone in the mood!
Once the venue opened, everyone got a glass of fizz and food (hey, if you're going to get scared, do it on a full stomach.) There were pulled pork buns, hot beef sandwiches and pork and stuffing too... as well as hot chocolate in a slow cooker! It was very nice and we are sorely tempted to buy a slow cooker just for making hot chocolate now the colder nights are drawing in!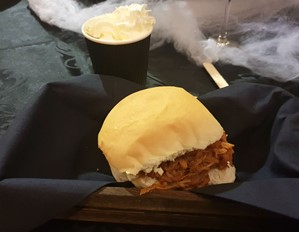 Anyway - we were eating our food and the scary characters were hanging around (one of the clowns had a horn that they loved pressing when they saw someone tucking into some food! We just about finished our pulled pork buns when we were asked if we wanted to go on a tour of the Scream Factory... how could we resist!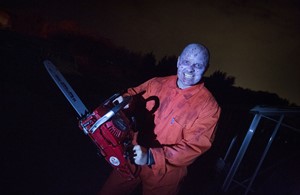 We don't want to give too much away just in case you are off to the Scream Factory this year but it was awesome! We only thought we were going to see a little bit of it, but we got to see it all. There were lots of hat tips to many scary films and television series including Saw, Psycho and American Horror Story, and some of the special effects were really incredible. Plus the actors were really committed to their roles - we were at the back of the group so ended up getting chased by a lot of them!
<< Afternoon Tea on the Wensleydale Express
>> The Afternoon Teescup: Jollybrew Pumpkin Spice tea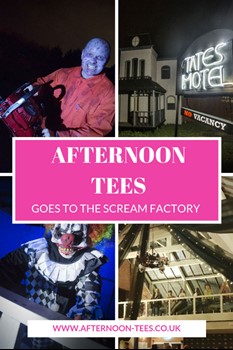 By
Kate
at 18 Oct 2018, 20:58 PM
Comments
Post a comment