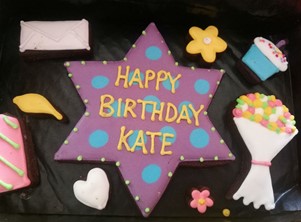 It was my birthday at the weekend and as you might expect from someone who runs an afternoon tea blog, I got lots of sweet goodies! The beautifully iced cookies above came from a friend and they were (almost) too lovely to eat!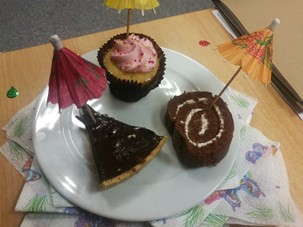 I also got some lovely cakes and a bottle of wine from my team at work. 
To celebrate at the weekend, we decided to go out to Norton for lunch and some drinks. I booked a table at 12 Harland Place. I'd gone out for afternoon tea at 12 Harland Place a few months ago and it was really yummy, so I was really looking forward to trying their brunch menu.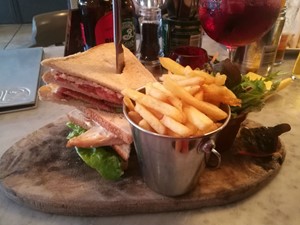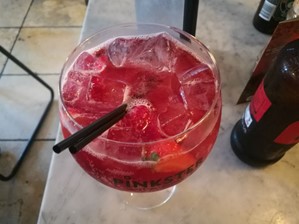 I had the club sandwich while my friends had the fishcakes and lasagne. The food was nice, but I did like the afternoon tea more if I'm being honest. I'm always sceptical when you buy an expensive sandwich and you have to buy the fries as an extra!
I did love the cider though, they put it in a really big class with lots of berries so it felt like a really fancy cocktail!
Speaking of cocktails...
We then headed off to the Head of Steam for a sneaky pint or two. Although we were still full from lunch, we were tempted by parmo chips, which are chips covered in bechamel sauce, cheese and your choice of topping. We also saw the world's largest dog in there!
After the Head of Steam we decided to pop into Canteen and Cocktails. It was quite quiet when we got there so we perused the menu and placed our orders at the bar.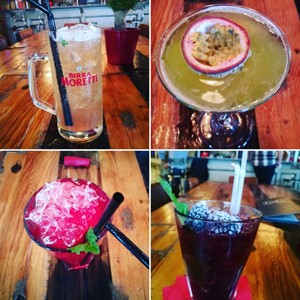 We tried a variety of cocktails between us. Our favourites included the Berry Mint Julep (served with zingy blackberries), the Number One (Canteen and Cocktail's flagship cocktail), the Melontini (midori and passionfruit) and my personal favourite, the Stormy Sailor, made of rum, ginger ale and topped with Moretti beer.
I've been told the food at Canteen and Cocktails is really good so will have to go back, not that I need any convincing!
The rest of the weekend was filled with more drink, tasty food, family and opening presents. I got quite a few afternoon tea vouchers for my birthday so watch out for some brand new reviews on the Afternoon Tees blog very soon!
<< Afternoon Tees goes to Saltburn
>> Afternoon Tees goes to Harrogate
By
Kate
at 25 Sep 2017, 20:03 PM
Comments
Post a comment