It's nearly December! We went along to the Darlington Christmas light switch on and then celebrated with cocktails and burgers at the NYC Grill.
I love Christmas and the run-up to the 25th December is always so exciting! I used to work in Darlington and one of my favourite things to do was to stay back after work to watch the Christmas lights get turned on at the end of November. 
Earlier this year it was announced that there wouldn't be any Christmas lights this year as the Council no longer had money for them but happily, the extra money was found and the light switch on went ahead as normal.
I met a friend and Mr Afternoon Tees in Darlington with the plan of going for food and a few drinks afterwards. We got to the Market Square for about quarter past six, but the celebrations had been going on for a few hours before, with entertainment including children from local schools singing Christmas carols.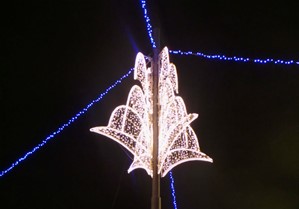 The Market Square was absolutely heaving, with lots of families waiting for the big switch on. Kids were waving flags promoting the pantomime at the recently renovated Darlington Hippodrome (formerly Darlington Civic Theatre) with lots of bright, flashing, neon toys for sale.
After lots of Christmas songs that had the whole crowd singing along, some of the stars of the panto switched on the lights, and Darlington was illuminated in the blue and white lights that the public had known and loved for so many years. There was an extra treat in the form of a fireworks display that took place at St Cuthbert's Church.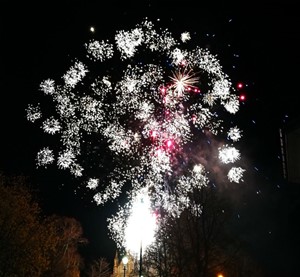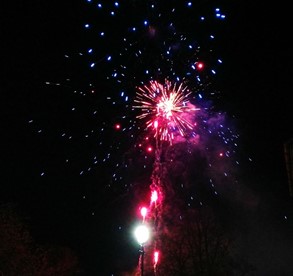 Time to eat! We decided to check out the NYC Bar and Grill at the new Feethams leisure complex. It was only a short walk from the market square and we had heard good things from the people who ate there (deep fried Oreos anyone?)
The festive decorations were already up in the restaurant and the staff all had their Christmas jumpers on (speaking of which, I'm going to have to try and find mine!) It took us a while to decide what we were going to drink as the drinks menu was huge! Not only were there the usual bottled beers and ciders, but lots of milkshakes, bottomless soft drinks and cocktails - below was the Dr Pepper slush which was made of Disarrono and cherry coke, with lots of fizzy cherry cola bottles on top as a cute finishing touch.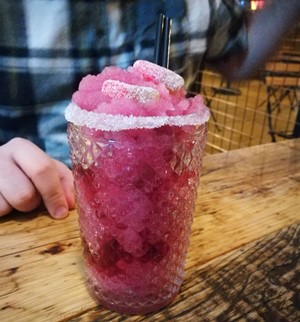 I opted for the peanut butter burger with a side of chips and pit beans. I love peanut butter and was curious to see what it tasted like in a burger. You could also get a burger topped with Nutella. Now I love Nutella too, but would I have it on a burger? The jury's out on that one!
The burger was decent - not sure peanut butter goes, but at least I can say I gave it a try. The bacon in the burger was a bit bland (America doesn't do decent bacon unfortunately!) but the skin on fries were good and the pit beans were delicious, rich and smokey and full of brisket and pork - I could have easily eaten more of them.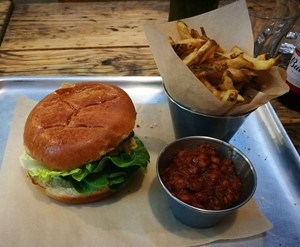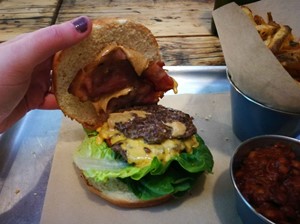 I'd definitely go back to NYC Grill to try more of the menu, especially the cocktails.
We popped back to the Market Square for one last drink and then it was time to head off home. It had been a long day, but it was exciting to see the lights in all of their glory!
<< Afternoon Tea at Acklam Hall
>> Afternoon Tees goes to Wynyard Hall
By
Kate
at 27 Nov 2017, 20:29 PM
Comments
Post a comment