We celebrated the May bank holiday by jumping on a train to London, where there was Lego, street food, free gin & tonics and theatre!
To celebrate the bank holiday weekend, I hopped on an East Coast train and travelled to London to see a friend. Aladdin was on at the theatre and we had tickets to go and see it, which I was so excited about!
No afternoon teas featured this weekend (sorry!) but there was lots to eat, drink and see!
An early start
I intentionally got to London early so I could do some sight-seeing before I met my friend, and my train pulled into Kings Cross at 11 on the Friday morning. There were some people drinking bubbly on the train, so they must have had plans for a very exciting weekend!
I was keen to do as many cheap/free things as I could so my first stop was a walk to the Wellcome Collection near Euston. This is a free medical museum with lots of interesting things to see, from the canopic jars that the Egyptians stored organs in, to wool and droppings from Dolly the cloned sheep.
Despite it being a Friday morning the museum was busy, and there were lots of students sat around sketching the exhibits. After having a mooch around, I chilled out with some sencha tea, made the most of the free WiFi and planned the rest of the day.
The Wellcome Collection did afternoon tea upstairs, but the restaurant didn't open until three in the afternoon. It was tempting to hang around, but there was lots to see!
An unexpected garden party
I then caught the tube to Oxford Road, had a look in the shops and walked over to Soho Square. There I stumbled upon an event B&Q were holding over the bank holiday weekend; a free garden party!
There you could chill out in the afternoon sun and have some free barbeque and a gin and tonic. It was really good, with lots of lovely photo opportunities!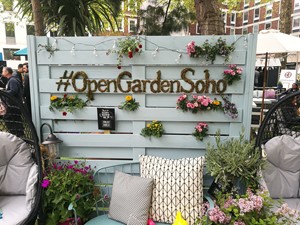 The only downside is I took my friend there on Saturday and there was no food and drink to go around. Not sure if they'd run out or were only serving at certain times.
Next stop was a leisurely walk through Leicester Square, St James' Park (where you could buy a season ticket for deckchair for the princely sum of £110), passing Buckingham Palace, through to Victoria, where I jumped on a tube to meet my friend for tea. It wasn't a wild night as I was absolutely shattered after doing all that walking!
Lego and lovely street food
We had some time free on Saturday morning and afternoon before the show began. My friend suggested heading on over to the Southbank Centre as there was a Lego exhibition on.
As you know through some of my other blog posts, I'm a sucker for Lego so we went along. The exhibit focused on DC characters, and there were sculptures of Batman, Superman, Wonder Woman and lots more. The crowning piece of the exhibition was a life-size Batmobile, made of nearly half a million bricks!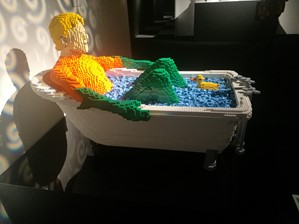 After the exhibition, we visited a street food market and decided to grab a bit of lunch. My friend went for an Ethiopian platter and I went for a bao, or steamed pork bun, a Korean delicacy. It was yummy but very messy, I ended up spilling chilli sauce all over my jeans and bag!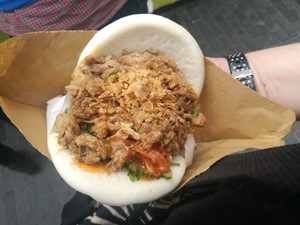 A night at the theatre
We then headed off to Soho where we had a few beers, a bit of ice cream (coconut and amaretti biscuit for me!) and some Lebanese food. And then it was showtime!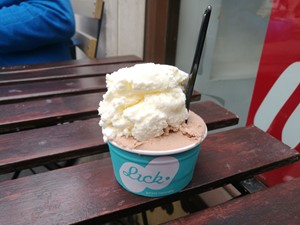 Aladdin was really good. I won't give the storyline away in case you're planning on seeing it, but it was really interesting seeing how they made it different to the animated film, and I did well up a little bit when 'A Whole New World' started playing! 
The next day, we had a little bit of time before I needed to get my train home so we went for a bit of lunch at a place called Beer and Burger (three guesses as to what they sold!) and then I said goodbye to my friend and got the tube to the station.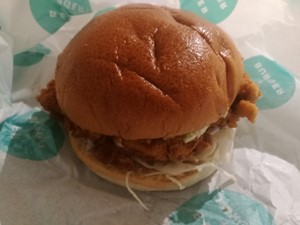 It was a really fun weekend and it was good to catch up with my friend over some tasty grub. You'll be pleased to know that I don't have any other trips away planned, and I have lots of lovely posts about afternoon tea and the North lined up!
>> Afternoon tea at Chapters Hotel
By
Kate
at 2 May 2017, 20:27 PM
Comments
Post a comment