Happy New Year everyone! Hope you had a lovely, lazy couple of days off and have eaten, drank and been very merry indeed!
Now that it's New Year, it is normally tradition to make a few resolutions. In the past I've made ones like 'keeping fit', 'eating healthier' and 'learning how to knit' - three years later the balls of wool and the knitting needles are still hidden away in a dusty old box somewhere.
In the spirit of the website, I thought I'd make some afternoon tea-themed resolutions this year, and report back on a regular basis to let you know how they're progressing.
So without further ado, hold onto your teapots, because here we go!
Learn to decorate cakes properly
I always get super jealous when I see beautifully decorated cakes on the television and social media… and one of my resolutions this year is to learn how to ice cakes properly!
I can bake okay, I've not hospitalised anyone from anything I've made… yet. However, my sweet treats always lack a little finesse. With this in mind I'd love to learn how to make pretty cupcakes. Whether I go on a course or just practice at home until I get good, I'm not sure just yet, but I will keep you up to date.
Make new friends on social media
It's been really fun talking to fellow afternoon tea-loving peeps on Twitter, as well as checking out all the lovely photos on Instagram. My aim for 2017 is to keep the conversation going and who knows… perhaps arrange a tweetup?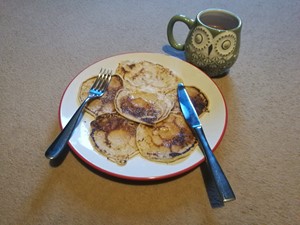 One new project I am going to undertake is taking a photo of a hot drink I've taken everyday and posting it on Instagram and Twitter. I'm hoping that this will encourage me to try lots of different flavours of drinks in different locations. Check out the #adrinkaday tag to find out more!
How is our #adrinkaday project going?
Buy some quirky teacups and teapots
I recently set up a Pinterest account for Afternoon Tees where I've been pinning some gorgeous cups and saucers. I'd like to begin to acquire my own collection of pretty porcelain this year, whether it be scouring the internet or checking out the local charity shops.
Go out for a really posh afternoon tea
I went to a fancy hotel for afternoon tea in 2016 and although it was okay, I was expecting a lot more.
I'd love to go out for at least one really posh afternoon tea this year, a venue with lots of history where you get to dress up, nibble lots of gorgeous treats and sip champagne. Aah, a girl can dream! Let's see what happens in 2017.
Have you got any New Year's resolutions this year? Let me know in the comments!
<< Christmas coffee, cakes and festive fish and chips
>> Afternoon tea at the Ingleby Barwick bistro
By
Kate
at 3 Jan 2017, 18:09 PM
Comments
Post a comment