Yay for freebies! When we won some baked goodies from Bakestone Bread, we had to celebrate.
I should start this blog post by saying that I never win anything. I won a dancing competition judged by a Jimmy Savile lookalike when I was seven years old (less said about that the better), but not a lot since then. So when I got a tweet saying I won a competition by Bakestone Bread, I was so pleased.
Well done @afternoon_tees You are this week's #Competition winner!

We'll be in touch & get your bakery goods in the post.#FreebieFriday pic.twitter.com/rkDrXGaiKw

— Bakestone Bread (@Mrbakestone) February 10, 2017


Bakestone Bread hold a weekly competition where people who retweet them get the chance to get a box of freshly baked goodies sent to them. I gave them my address and hung tight.
I got home from work on Friday and found a card through my door saying that a parcel had been left with a neighbour! Yay! The goodies had arrived. I headed over to knock on the door but no reply. Not to worry I thought, I'll go over in the morning and can then celebrate with lots of goodies for breakfast.
I went over early on Saturday in my pyjamas (hey, don't judge) and knocked on the door again. No reply. And the curtains were still drawn. Hmm.
Suddenly a voice piped up from a nearby garden "You won't see them today" they said, "They've gone away for the weekend."
AAARRRGH.
Seriously, who takes a parcel in and then goes on holiday!? I hoped my scones wouldn't be stale by the time they got back.
As soon as I saw the car pull into the road on Sunday I was off like a shot to get my parcel (desperate, me?) and then rushed back home to unpack.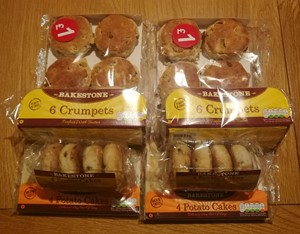 The box contained two packs of crumpets, two packs of potato cakes, two packs of scones and two packs of Eccles cakes. Thankfully nothing had expired. I popped the crumpets, scones and potato scones in the freezer so they were okay to eat later on in the week.
I had one of the Eccles cakes as an early-evening snack. I had to explain to my other half what an Eccles cake was, as he'd never seen one before.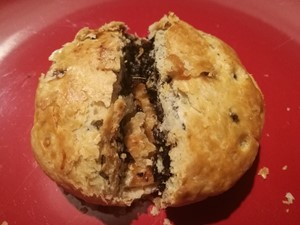 For those not in the know, an Eccles cake is a North-West pastry which is full of raisins and spices, kind of like a mince pie. It was very crumbly and full of rich fruit, which was great. Some people eat their Eccles cakes with cheese, but I had mine on its own with a cup of tea.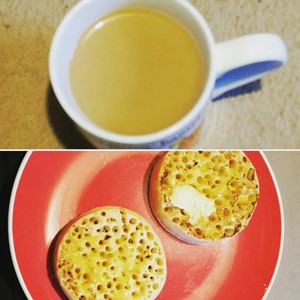 The potato cakes got eaten over the space of the week as a snack. Potato cakes are one of my favourite things and they got inhaled so quickly! The crumpets got eaten for breakfast (one of my favourite weekend treats is crumpets smothered in butter with a strong cup of coffee) and I also had some for tea one night too.
The scones were nice and fruity and were eaten with clotted cream and lashings of strawberry jam, as all sweet scones should be.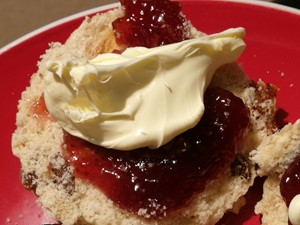 So thank you Bakestone Bread, it's always good to get a freebie!
<< #adrinkaday review - part one
>> Lego and liquor in Newcastle
By
Kate
at 28 Feb 2017, 20:13 PM
Comments
Post a comment