We went to Wynyard Hall to experience lots of festive fun and ice skating as part of 'Wynyard On Ice'. Find out what we made of all the festivities.
My mum was lucky enough to win two tickets to go ice skating at Wynyard on Ice as well as free coffee and cake at Wynyard Hall. She asked if I'd like the ticket and I jumped at the opportunity. I'd never been to Wynyard Hall before and I hadn't been ice skating for about twelve years (I took some friends to Billingham Forum once, we did one or two laps of the rink and then decided to go to the pub).
Wynyard Hall is a massive hotel that sits between Stockton and Durham - with a restaurant, spa, walled gardens and cafe. During November and December, the hotel also hosts an ice rink too.
I rang the events office to book a slot, and we drove over one Sunday in order to get in the festive mood and do some skating!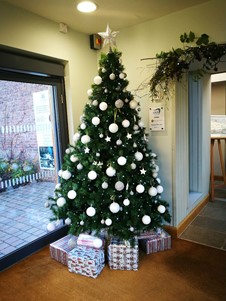 The ice rink could have been signposted better, we ended up parking in the grounds of the hotel and had to walk over a muddy hill in order to get to the ice rink. The ice rink was easy enough to spot when we got over the hill though, with lots of cosy wooden cabins and festive music.
We ordered our boots, put them on and then we were ready to skate!
I didn't take any photos of the ice skating as there were signs kindly requesting that people didn't take photos on the ice rink, although it didn't stop some people deciding to randomly stop in the middle of the ice rink to take a few selfies...
I was quite pleased that I could still remember how to skate and didn't fall over! 
It would have been nice if the rink was a little bit more Christmassy, perhaps with some decorations, but it was quite early when we went and it may be more festive now. 
After ice skating, it was time for something to eat - we got a free voucher for coffee and cake as part of the competition so we went to the Garden Cafe.
As well as the hotel and ice rink, Wynyard Hall has a walled garden you can pay to walk around (although it was free this time of year as winter had killed off most of the blooms.) There is a cafe and farm shop accompanying the garden so we set off to claim our coffee and cake.
There was a bit of a queue but this gave us time to choose which slice of cake we wanted, and there were quite a few! We opted for two mochas and a slice of carrot cake and a slice of caramel latte cake. The cake slices were expensive, at £4 each, but they were huge and very tasty, in particular, the caramel cake.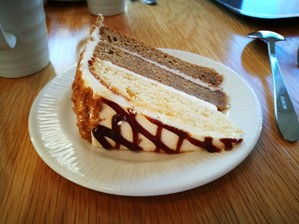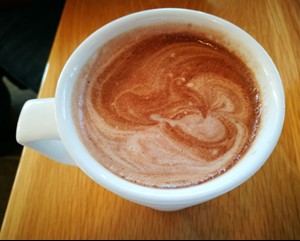 We had a pleasant time at Wynyard Hall. Would I have paid £11 for the ice skating? Probably not, but it was a fun experience, and it would be nice to go back in the summer to check out the garden in full bloom.
Update: Find out more about our festive afternoon tea at Wynyard Hall!
<< Afternoon tea at Acklam Hall
>> Afternoon Tees makes a Christmas cake
By
Kate
at 10 Dec 2017, 09:16 AM
Comments
Post a comment