We head off to Stockton to check out the newly refurbished Georgian Theatre as well as some of the brand-new bars.
It's a bit of a rarity to be out of the house on a Saturday night these days, not that I'm complaining!
This Saturday I was out in Stockton at the newly refurbished Georgian Theatre for a gig. I have fond memories of going to the Georgian for gigs and club nights when I was a lot younger. I was a bit of a headbanger back in the day!
Fences down at @georgian_stcktn...

...See you tonight. #Teesside #Stockton #music pic.twitter.com/8056XN029D

— Tees Music Alliance (@NewsTMA) March 24, 2017
Now I'll be honest… Stockton has never been the nicest place for a night out. It's always been a bit rough around the edges, even downright dodgy in some places. Even though the High Street was recently regenerated (it won an award in the 2016 Great British High Street of the Year Awards) and is a lot more pleasant than it used to be, there are still a lot of areas you wouldn't want to be after dark
I did spot a lot of cool afternoon tea places though which I have added to my list of places to visit, as well as a few quirky pubs and bars.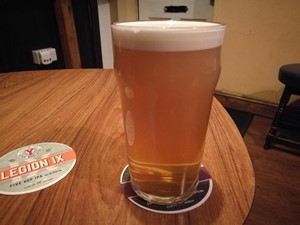 For example, I popped along to the Golden Smog which is a micropub on Hambletonian Yard, one of the little wynds off the High Street. It's small and cosy and sells a wide range of ales for about £3 a pint. Plus they had a whole plate of quiche on the bar, which is awesome. I'd take that over a pack of pork scratchings any day of the week!
Next stop was Thirsty Souls, a brand new pub which only opened this year. This is a self-serve bar where you load up a card with credit and pour your own beer! This was really fun, the only downside is if you're not very skilled at pouring a pint, it can end up being a bit pricey. However, I'm sure we will all become consummate professionals in no time!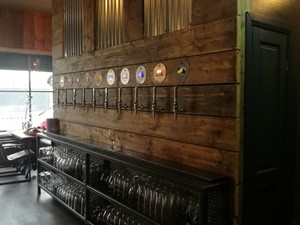 After a quick pint in the Green Dragon, we headed off to the Georgian Theatre. I was really surprised at the renovation. The Georgian is now a proper grown-up venue. It had a proper bar, an upstairs balcony and nice toilets. Back in the day if you needed the loo you needed to walk up the stairs over the stage, which was always a bit perilous if you'd had a couple of bottles of Newcastle Brown.
I was a little bit sad to see the old venue go as it had a lot of fond memories for me, but the new building was lovely, the gig was a blast, and it's motivated me to go out in Stockton a bit more this year.
Update: We made a return visit to Stockton - find out how we got along!
<< Afternoon tea at 12 Harland Place
>> Rummaging for clothes in a vintage kilo sale
By
Kate
at 3 Apr 2017, 19:57 PM
Comments
Post a comment