The Festival of Thrift has been a North-East institution for years, and this is the first year that it has been hosted in Kirkleatham village in Redcar (previously it was at Lingfield Point in Darlington). Come with us as we take a tour.
I was always busy the weekend it was on in Darlington, so this is the first year I went along. I'll be honest, my first impressions weren't great. There were massive queues leading up to the festival, and you had to pay five pounds for parking - parking was free at the Darlington one, but as I never went, I couldn't say what the queues to get in were like.
The entire village was closed off for the festival, from the school to the museum to the church, so the grounds were massive. There is a lot of history within the grounds too, when you enter the festival you are greeted with the toasting gate that formed part of the old Kirkleatham Hall.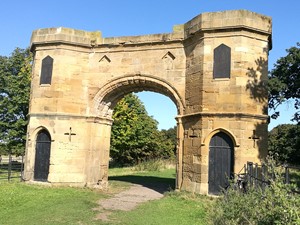 There was a lot to see and do at the festival - from street food stalls and the obligatory crafts you can buy. There was a stall which was selling wallets and purses from inner bike tyres which was pretty neat, as well as banjos and ukuleles made from old tin biscuit boxes and lunch boxes.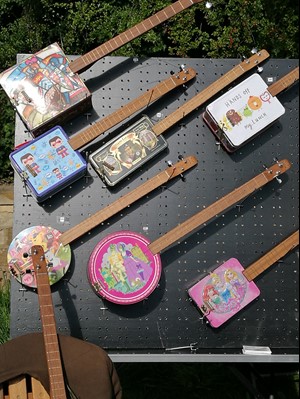 As well as the stalls, there was music, talks, workshops and art exhibitions. If you went into the stables they had lots of different art installations, including some carefully stacked rubbish which created a silhouette of a horse on the wall which was really clever.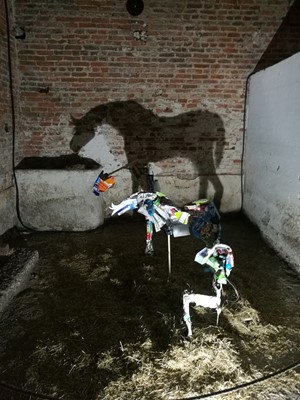 I didn't get the chance to have afternoon tea at the Festival of Thrift, but amongst the various street food and sweet stalls, you could take your afternoon tea in a campervan! How cool is that?
It cost £10 for a selection of sandwiches, a scone and a slice of cake, as well as tea and coffee. Half portions for children cost £5. You had to book online before the festival though.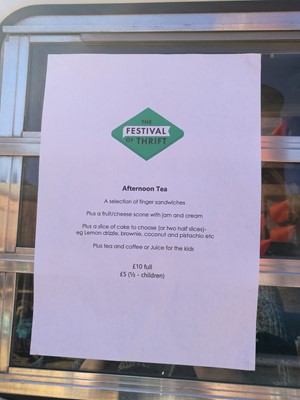 Although I didn't have afternoon tea in a campervan, I did buy a soft drink from an old Routemaster bus that doubled up as a bar. With a DJ spinning tunes on the top deck.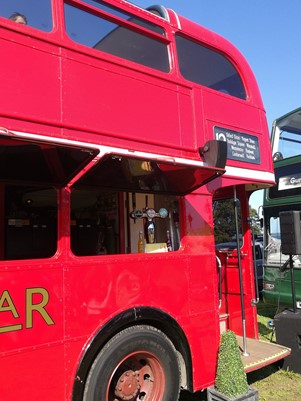 There was also a brightly coloured entertainment troupe called Mischief La Bas who paraded around the festival with a very jammy Scone Of Destiny. I did see the scone unattended by the school and must admit, I was tempted to take it out for a bit of a joyride!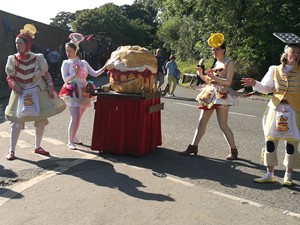 Apart from a coke and a bombay potato wrap (which was yummy), the only other thing I bought at the Festival of Thrift was an awesome vintage Christmas jumper from the Oxfam store - six quid!
So… initial impressions of the Festival of Thrift weren't the most awesome. It got a lot better though, and the grounds were absolutely huge! We spent about three hours there, but you could have easily spent the whole day exploring. Will definitely be going back next year, and I promise you all that I will be drinking tea and eating cake in a campervan!
Find out more about the Festival of Thrift: www.festivalofthrift.co.uk
Check out when we visited Kirkleatham museum for robots and cheesecake!
<< Afternoon Tea at the Olde Young Tea House
>> Afternoon Tea at Crathorne Hall
By
Kate
at 8 Nov 2016, 20:32 PM
Comments
Post a comment