We're celebrating Christmas by decorating Christmas cake, drinking festive coffee and going to an arts and crafts fair.
Bit of a shocking confession - I've never been to a festive afternoon tea!
I very nearly went to one the weekend before last, when my family and I went along to a Christmas Craft and Food Fair at Sedgefield Racecourse.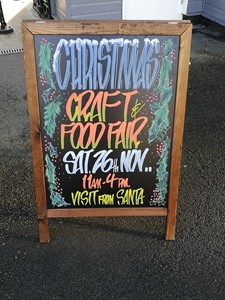 A festive afternoon tea was included in the offer, but because we needed to book into the restaurant when we got to the fair, we weren't able to have afternoon tea for about two and a half hours!
As we couldn't hang around a craft fair for that long, we accepted that afternoon tea was not meant to be and swapped our tickets for fish and chips instead. Although the fish and chips were nice, this blog isn't called 'Afternoon Fish and Chips'!
I calmed my nerves by having a gingerbread latte and cake when I got back home.
A nearly-Afternoon tea in Middlesbrough
I was given a Groupon to have afternoon tea at the newly opened Patisserie Valerie in Middlesbrough last Sunday which I was really excited about, but it didn't quite go as expected.
We got there at about half two and were told that it closed at half three, which was fine, we were confident that we could demolish an afternoon tea in an hour! We took our tea and coffee and sat down to wait.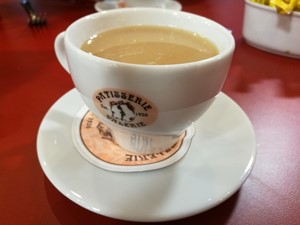 However, it got to three o'clock and no afternoon tea had appeared. When I went up to ask what was going on, it turned out they had forgotten to put the afternoon tea on, and because it was half an hour until closing, they didn't have time to do a new one.
**Insert festive expletive here**
The staff were very apologetic, we got a full refund, there was no charge for the drinks and we were given four pieces of cake to take home. It was a shame, but hey, these things happen, we're only human.
So, it looks like there will be no new afternoon tea reviews on the blog until 2017. Boo.
I saw a delicious Christmas-themed afternoon tea near to me and rang up to make enquiries, but they weren't doing afternoon tea on Sunday, the only day in the run up to Christmas I could do.
I don't think I'll be doing a festive afternoon tea this year at this rate! Maybe I'll get to do one in 2017.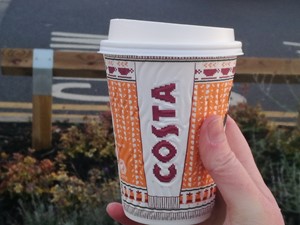 I've been getting into the festive mood regardless - had my first festive Costa coffee at Teesside Park a few weeks ago (love the Christmas jumper design!) and have been decorating my Christmas cakes. I cheated and bought ready-made royal icing, as it's such a pain to make, but it's so sticky, it kept pulling the marzipan off! A couple of strategically-placed cake decorations and some sparkly bits, and nobody will ever know…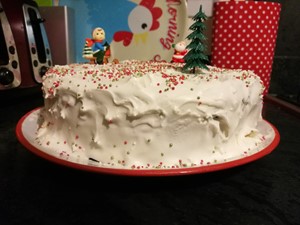 I've been keeping myself busy despite no afternoon teas with wrapping presents, finding the perfect top to wear on Christmas day and heading off to Newcastle for a gig. They have a massive tipi at Newcastle station which serves mulled wine, ale and cider and hot drinks.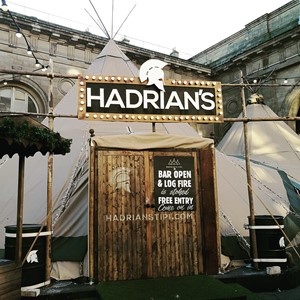 Also, check out this cool graffiti I spotted on the Quayside!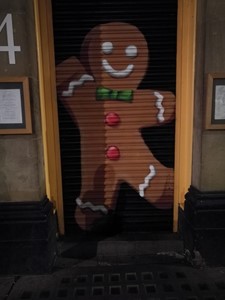 So, not too much to report as 2016 draws to a close, but here's looking forward to an exciting 2017! Have a lovely Christmas and New Year and I will see you all in January.
Update: We finally got to have an afternoon tea at Patisserie Valerie!
<< Afternoon tea at Crathorne Hall
>> Afternoon Tees' New Year's resolutions
By
Kate
at 6 Dec 2016, 21:06 PM
Comments
Post a comment